'RHOC' Premiere! Tamra & Vicki's Feud Continues As Shannon Tries To Mend Her Marriage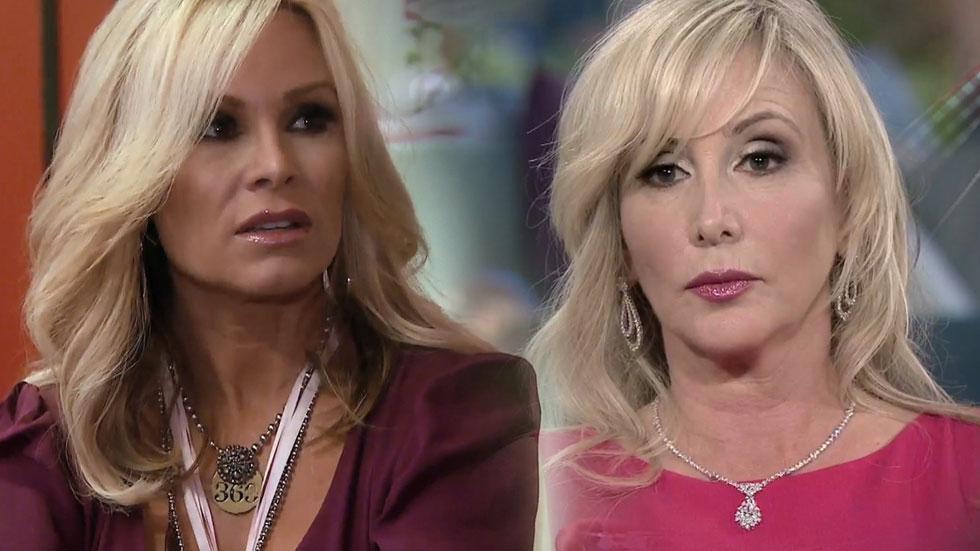 The ladies of Orange County are back and badder than ever!
In the season premiere of Real Housewives of Orange County, these California girls are off to a rocky start!
To kick off the drama, Vicki Gunvalson announces that her boyfriend Brooks has been living with her since his stage-three lymphoma diagnosis. While Vicki's daughter isn't too keen on the situation, the reality start insists that there's nothing to worry about despite frenemy Tamra Barney's claims of an abusive relationship.
Article continues below advertisement
"I don't want to grow old alone," Vicki admits in confessional, adding that having Brooks around has been wonderful after spending so much time alone.
As far as Tamra's concerned, Vicki also hopes to put the past behind them and move on without any judgment.
"I want her to realize people can change, people can evolve and grow," Vicki commented on Tamra's opinion of her relationship.
Later, she adds: "I love Tamra; she's like a sister to me … ish."
Meanwhile, Heather Dubrow's plans for building her family's dream home were heavily underway.
Since husband Terry -- known as one of the top docs on Botched -- has been busy working, Heather has taken matters into her own hands, working tirelessly to create the perfect mansion.
"It's kind of exhausting," she confessed. "I know, poor me, but it is!"
Also in the mix, Heather's friend and RHOC newcomer Meghan King Edmonds! After vowing that she wouldn't marry an older man let alone a professional athlete, Meghan found herself tying the knot to none other than baseball superstar Jim Edmonds.
Article continues below advertisement
While being a new wife has its advantages, Meghan also experiences the difficulties of having a stepdaughter who could easily pass as her younger sister.
To make matters worse, Jim seems too distracted to pay attention to Meghan throughout the premiere episode, even misplacing his wedding ring without showing any remorse!
Ironically, Meghan shares in confessional that "Jim completely respects me. He knows my soul…he understands my feelings."
Following a disastrous family dinner with Jim and stepdaughter Hayley, Meghan adds: "We're redefining what family is."
Watch the Video on RadarOnline:
On a sadder note, Shannon Beador experiences marriage troubles that drive her and husband David to a couple's retreat.
"We need professional help," she confesses, adding tearfully, "hopefully one day soon I'll say 'this was all a blessing.'"
Before Shannon can forgive and forget however, she has to overcome the hardship of David's affairs, which took place over what "should have been the best year of her life."
Article continues below advertisement
In Tamra's neck of the woods, it's all about breast implants!
The reality star goes under for yet another surgery, this time to make her already smaller cup-size -- which she has a "love/hate" relationship with -- a little perkier.
But Tamra finds that waking up from surgery without her friends by her side has made her feel utterly alone.
After a year of being unabashedly honest, the blonde bombshell has turned a new leaf, vowing to keep things to herself in hopes of bringing back the friends whom she claims rival Vicki had driven away.
But there's still hope! Tamra also learns that she will be a grandmother, throwing a country-themed bash for her son and his wife Sarah, whom he met on Instagram.
With parties ahead and feuds brewing, this season's sure to bring plenty of drama !
The Real Housewives of Orange County airs Mondays at 9 PM EST on Bravo.