No Blurred Lines To The Altar! Robin Thicke Plans To Marry 'Gold Digger' Girlfriend April Love Geary –– Find Out Ex Paula Patton's Shocking Reaction!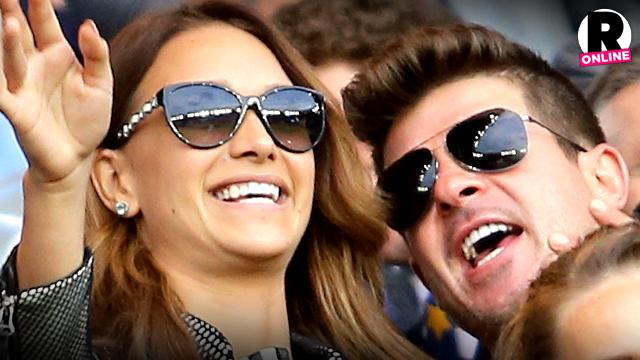 Robin Thicke has been officially divorced from estranged ex-wife Paula Patton for just more than a month, and a source close to the "Blurred Lines" singer tells RadarOnline.com exclusively that he is ready to marry his 20-year-old girlfriend, April Love Geary.
Thicke, 38, and Patton, 39, who share custody of their 4-year-old son, Julian Fuego, announced their separation in Feb. 2014 after 21 years together and nearly 9 years of marriage.
Article continues below advertisement
So how does Patton feel about her ex-husband -- who she allegedly caught in bed with a woman that the swinging couple were both having a steamy three-way affair with -- feel about him rushing to the altar with his much-younger gal pal?
"She is beyond livid that he is even considering marrying this girl," a source told Radar, adding that "Paula cannot stand April, and thinks that she is a total gold digger, but she is just keeping her mouth shut for the sake of their son."
The source noted that "Robin and April already live together," and that April "has done everything she can to weasel her way into his heart, as well as his son's heart, and it worked because they both adore her."
The source said that April, who doesn't work, has pleased Thicke by just following him around from "city-to-city like a groupie."
The biggest source of Patton's anger is rooted in Thicke staying faithful to April -- something he could never be for Patton.
"What makes her most upset about all of this is that Robin and April have a sexually-monogamous relationship, which is something that Robin always said he would never have," the insider added.
Should Robin Thicke marry April Love Geary? Tell us your thoughts in the comments below.