It's Over! Details Of Robin Thicke & Paula Patton's Divorce Settlement Revealed—Read Court Filing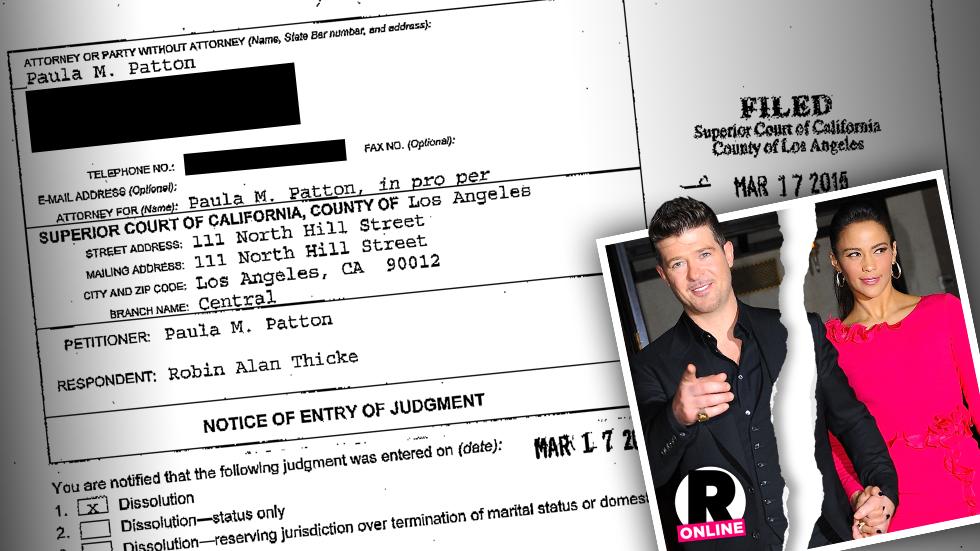 Robin Thicke and Paula Patton's marriage is nearly over.
Patton and Thicke filed divorce papers on March 17, officially agreeing to the dissolution of their union, which will legally be kaput on April 14, according to legal documents filed in L.A.'s Superior Court.
The papers reveal that the termination of the marriage is uncontested, meaning the two have agreed to how they will split their property and other assets.
Article continues below advertisement
Additionally, the amicable split calls for the two to continue with custody, visitation and support for their 4-year-old son Julian, as previously agreed upon.
Patton and Thicke called it quits on their nine-year marriage almost exactly one year ago.
As RadarOnline.com reported, the divorce agreement isn't Thicke's only legal resolution lately. The singer and Pharrell Williams reportedly owe Marvin Gaye's estate $7.3 million after a jury found them guilty of copyright infringement with their song "Blurred Lines."