Meghan Stirs Drama In Shannon's Marriage As Vicki & Tamra Make Amends –– All Of The 'RHOC' Drama!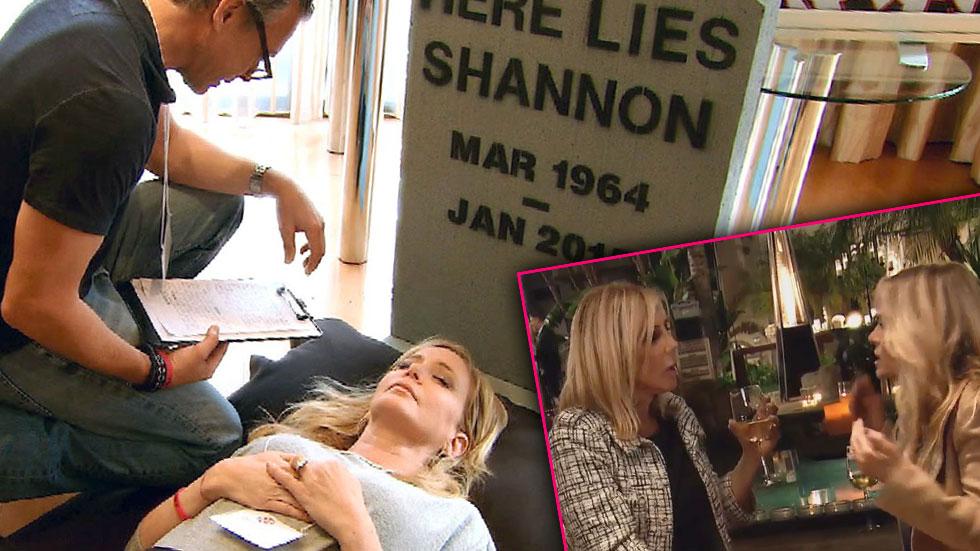 Most of the Real Housewives of Orange County gals chose to play nice on Monday's episode -- a surprise with a tequila party scheduled and catfights looming!
During the all-new episode, Shannon Beador breaks new ground in marriage counseling with husband David after his "devastating" admission to having an affair.
In a rigorous counseling exercise, both Shannon and David are asked to write their own eulogies and lie down in front of a gravestone replica as their significant other reads their words aloud. The exercise proves to be very successful, as David weeps reading Shannon's faux tribute.
Article continues below advertisement
"David doesn't cry so to see him break down emotionally like this, it's pivotal in our relationship -- it means something," she later shared in confessional.
When the couple returns home, David also asks for forgiveness from his three daughters, who graciously welcome their father back into the home.
But not so fast: the honeymoon phase may end soon for the rejuvenated couple!
Watch the Video on RadarOnline
Meanwhile, newcomer Meghan Edmonds and hunky hubby Jim go shopping for home décor.
As the couple bickers over broken glassware and changes that Jim, a former star outfielder for the St. Louis Cardinals, finds unnecessary, it comes to light that Meghan, his second wife, also has a previous marriage under her belt.
"I can't be sure this marriage will work," she later shares. "That's too optimistic and I like to be realistic."
Article continues below advertisement
Over at Tamra Judge's house, the reality star receives an unexpected call -- from frenemy Vicki Gunvalson!
In an effort to patch things up between the two, Vicki invites Tamra to an upcoming party, explaining: "I want to try to figure out a way that we can be friends again."
Of course, both powerhouses manage to fit in a jab or two about punching one another "in the throat" if there's any foul play at the party.
Alas, waving the white flag proves to be successful for the on-again-off-again pals. Despite some awkward tension between Tamra and Vicki's beau Brooks, all seems to be forgiven.
The two ladies even share a heart-to-heart at the end of the get-together, eventually agreeing to be friends once more (with some guidelines, of course).
"You don't let it go," Tamra warns Vicki during their conversation. "I can't move on if you keep dwelling on the past."
Article continues below advertisement
Watch the Video on RadarOnline
As the party goes on, drama seems to brew more readily, though fun-loving Heather Dubrow does a respectable job of keeping everyone in good spirits. Perhaps it's thanks to the launch of her sparkling wine collection.
But trouble eventually stirs when Meghan is faced with Shannon and David.
In a flashback to last year, the blonde beauty is seen taking a tequila shot with David during an event, ignoring Shannon in the process.
"I think she thinks I flirted with her husband last year," Meghan says, devoid of any guilt.
Shannon gives Meghan the cold shoulder, not quite ready for confrontation.
As the drinking continues, so does the party. Guests soon gather for a round of piñata.
After many laughable attempts in heels from all of the housewives, Meghan successfully knocks the donkey down -- much to Shannon's chagrin.
The Real Housewives of Orange County airs Mondays at 9 PM EST on Bravo.