Tragic Times: Family Of Lamar Odom's Dead BFF Can't Afford To Bury Him! Inside The Desperate Fundraising Efforts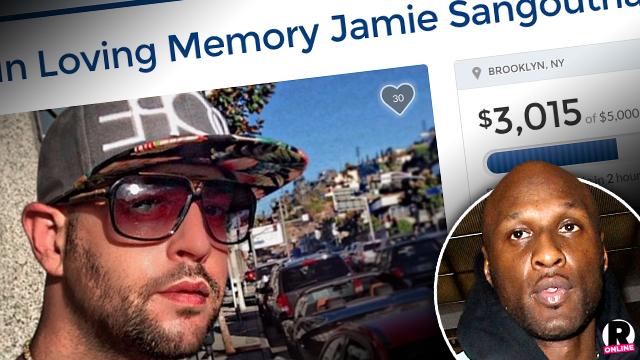 The tragedy of Jamie Sangothai's sudden passing continues, as RadarOnline.com has learned his family can't afford to give him a proper burial. Now, friends of the Kardashian BFF have rallied to raise funds for his desperate family.
As RadarOnline.com reported, Lamar Odom's best friend died at the age of 37 Sunday after reportedly overdosing on heroin in Los Angeles. Now, in an effort to give him a proper funeral and burial, his friends Willie and Jonie Miranda are reaching out and asking for help.
Article continues below advertisement
In a GoFundMe account set up on June 15, the same day as Khloe Kardashian confirmed the news of her estranged husband's BFF's passing, the Miranda family wrote:
"Hello everyone. As most of you know, our good friend and CK classmate has passed away. Jamie Sangouthai will be missed by so many. Unfortunately, there aren't enough funds to bring him home. I Spoke to his childhood friend Leo and we are doing a fundraiser to help his mom give him a proper burial. I'm asking all of our CK family to please help out. Whether it be in the form of a monetary donation, or prayers being said for his mom and family. Anything you can do will be greatly appreciated."
"We would like to proceed with funeral arrangements as soon as possible. I'm sure we all stand behind the CKFamily when one of us is in need," they wrote. "Let's unite and bring Jamie home. God bless you all. If we reach the goal, please keep donating because his mother can use all the help she can get."
Sangouthai's mother works at a small flower shop in Queens.
As RadarOnline.com previously reported, Sangouthai and Odom had been friends since playing basketball together in New York when they were young.
Khloe Kardashian claimed in a past episode of Khloe & Lamar that she felt Sangothai was enabling Odom's drug use, but she expressed her sentiments at his passing by tweeting, "When does it stop? RIP Jamie Sangouthai"
Do you think that the Kardashians should donate to help the cause? Tell us your thoughts in the comments below.