Mean Girls! Kyle Richards & Lisa Vanderpump Reportedly Caught Mocking Caitlyn Jenner — Their Dirty Diss EXPOSED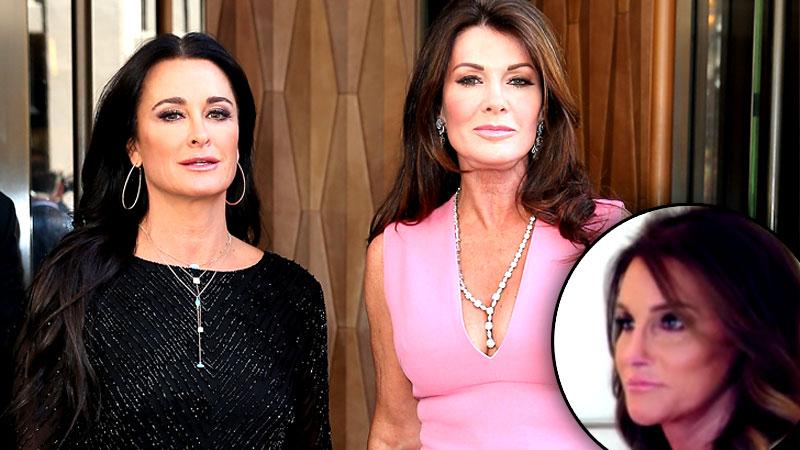 UPDATE: "What utter nonsense," Vanderpump tweeted Wednesday in response to the In Touch report. "I have nothing but utmost respect for Caitlyn and the LGBT community and have supported it passionately, for years."
---
Caityln Jenner has been warmly embraced for her courageous decision to go public with her transformation but not everyone in Hollywood has been so accepting. According to a new report, Real Housewives of Beverly Hills stars Kyle Richards and Lisa Vanderpump were recently caught mocking her in public!
Article continues below advertisement
The reality stars were having lunch at the West Hollywood hot spot Cecconi's when they reportedly began making offensive jokes about Jenner.
"At one point Kyle held up her phone and started laughing hysterically as she showed it to Lisa and the rest of the table," a source told In Touch magazine.
"It was that meme of the back of Vanity Fair that shows Caitlyn's private parts between her legs. Kyle grabbed Lisa and said 'Oh my God, what if they put her on our show?"
The crude joke make Vanderpump crack up, In Touch magazine reported, and the denigrating talk continued.
"Then Kyle said, 'What if we walk in on her in the bathroom and she's standing up to pee?'" the source told the magazine.
The Bravolebrities continued their unkind conversation, according to the In Touch eyewitness. "After Kyle made a crack about what cameras my capture if Kaitlyn join the cast, another woman at their table chimed in," the source claimed. "She said it's just like Mrs. Doubtfire!"
But in the end, Jenner is the real winner. While Richards and Vanderpump pull in about $250,000 per season on their Bravo show, 65-year-old she is making a hefty $5 million for her one-season series on E! I Am Cait.