'It's A Struggle': Kim Kardashian Vents On Balancing High Fashion With Staying Comfortable While Pregnant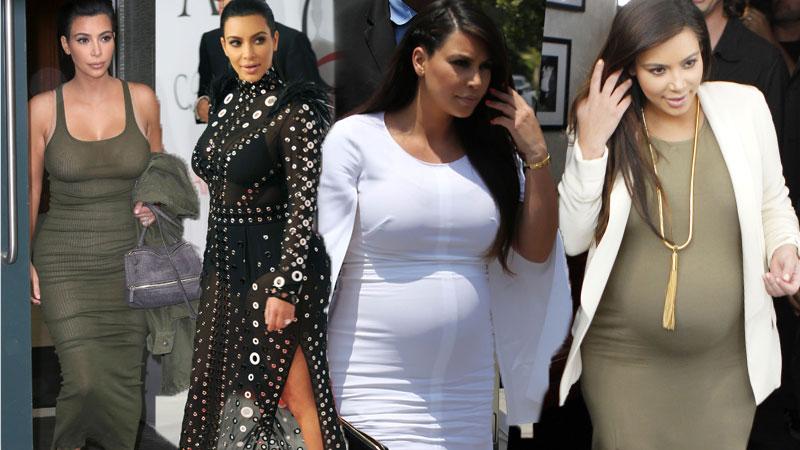 Kim Kardashian might need to keep up appearances while she's expecting, but the reality star isn't happy about it.
The socialite, speaking with Elle this week, admitted she feels a bit insecure and uncomfortable while trying to radiate sexiness and glamour during the time leading up to childbirth.
"You know, sometimes I wear two pairs of Spanx under something or stockings -- it holds you in," the 34-year-old told the fashion publication. "And when you go on all these hormones and stuff, before I felt like, you know, I was trying everything, so I was getting bigger and bigger, and I was like 'No, I'm not pregnant yet, I need to be skinny' -- so I was definitely insecure."
Article continues below advertisement
The Keeping Up With the Kardashians star said that while she might seem polished and confident in pictures, she feels the opposite on the inside.
"I mean, sometimes I'll wear something and I'll get inside and be like 'Oh my God, I want to take these shoes off,' like, 'That was not normal, I can't wear these, I need to just leave and take them off,'" she said. "So it might look good in the picture, but I get them and then like, I've got to be normal and like unbutton my pants when I get in the car."
Kim said she's still getting used to compromising her traditional high fashion look to be practical during her pregnancy, using flats as an example.
"I happen to hate the way I look in them ... it's really hard for me so I'm already thinking, like, 'What the f**k am I going to do?' And when I was pregnant, it was the hardest thing -- but I know it's better and easier, you know, so it's a struggle."
Article continues below advertisement
The middle Kardashian sister said that in her second pregnancy, she's already made fashion decisions more for comfort than vanity.
"Earlier today, I was wearing these pregnancy Spanx and they were newer, so they weren't really the color tone of what I used to wear, and so you totally saw through, and I was just like 'F**k it, I'm more comfortable in that and it's just going to be one of those days.'
"I wasn't feeling good."
As RadarOnline.com previously reported, Kim is also increasingly concerned about putting on too much weight during her second pregnancy, and already mapping out a game plan to stick to "healthier options" this time around.
"She's talk to a nutritionist," a source told InTouch. "She's going to try staying away from all the junk food. She's planning on sticking to salads, grilled chicken and turkey burgers without the bun and make use of a trainer more in the early months."
Watch: Kim Kardashian gives fashion advice to Bruce Jenner