Exclusive
Mr. Kidman? Bombshell Lawsuit Accuses Keith Urban Of Using Wife Nicole For Fame –– Inside The Jaw-Dropping Claims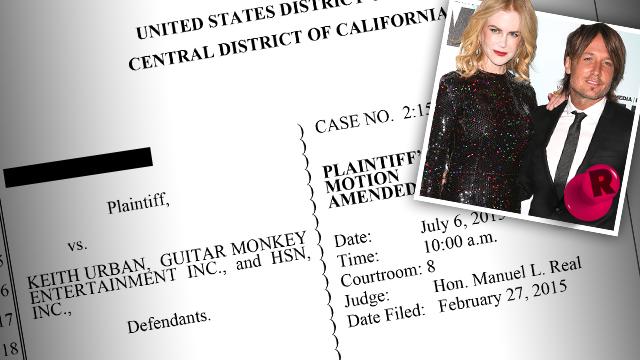 Poor Keith Urban! The American Idol judge recently learned he is losing his job on the cancelled show, and now, RadarOnline.com has learned, he was just slapped with a lawsuit that accuses him of making mediocre songs and leeching off of Nicole Kidman for fame!
Urban, 47, is being sued by Peter Beckett, guitarist for the 70s rock band Player, who claims that the Idol judge ripped off his band's name for a Home Shopping Network line called Player By Keith Urban. In the outrageous court documents obtained by Radar, Beckett claims Urban needed to use Beckett's name because he simply isn't famous enough!
Article continues below advertisement
"Perhaps if not for his marriage to Nicole Kidman and if not for his appearance as a judge on the tail end of the now cancelled American Idol, defendant Urban's fame would be limited to country fans for just a few more years," Beckett says of his opponent.
In the papers, Beckett points out that his song "Baby Come Back" was #1 son on Billboard Hot 100 for three consecutive weeks in January 1978 "is one of those rare songs that have come to 'define an era' … and became a treasured part of people's memories." Urban, he is quick to point out,
"Keith Urban is also famous. He too has had hit records, but none of those re cords has ever reached number One on the Billboard Top 100 Pop Charts …" he sniffs. "Songs have givingsic him some popularity, but it appears his songs will not live on for over 38 years with no signs of ever abating"
"Perhaps fearing that his music popularity may be just fleeting moments in time, defendant Urban has chosen to transcend into a businessman and has teamed up with defendant Hoem Shopping Network," Beckett continues. "Together, they are attempting to unlawfully grab plaintiff's player trademark to further sales of their guitars and cds/dvds/ which they also brand as Player."
Article continues below advertisement
"The fact remains that Players' 'Baby Come Back' … will live in the hearts of music fans forever, whereas defendant Urban's songs will probably fade into obscurity," he insists. "The difference is staggering and a jury literally could hear the difference."
Urban and HSN were originally selling without the player brand but added it in december 2014 "so they could sell more goods," Beckett claims.
He wants a jury trial and damages.