Exclusive
Beware, Kate: Gosselin's Millionaire Boyfriend Jeff Prescott Accused Of 'Stalking,' 'Extremely Jealous' Behavior By Ex-Wife PLUS His Secret Weapons Arsenal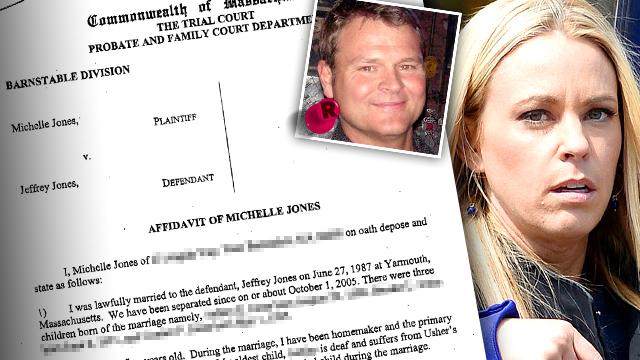 Kate Gosselin finally found the man of her dreams in millionaire boyfriend Jeff Prescott. Or did she?
RadarOnline.com can reveal that the Boston-bred entrepreneur, 51, was previously accused of stalking and jealousy during his messy divorce.
According to Massachusetts court documents obtained exclusively by RadarOnline.com, Prescott's ex Michelle Jones accused her then-husband of possessive, "scary" behavior in the months following their separation.
Article continues below advertisement
READ THE SHOCKING COURT PAPERS
While out with a girlfriend at Hyannis bar the Naked Oyster in February 2006, Jones claimed in an affidavit that Prescott followed her during the night out on the town.
When leaving the bar, "I observed my husband in his Humvee parked in front," Jones wrote. "He was stalking me. He is extremely jealous of my friend who works at the Naked Oyster."
Later that night, she said she applied for a restraining order. The request was denied.
Earlier that month, Jones claimed Prescott called her "no less than 12 times" within two days, promising that the divorce would become "nasty," and she would "lose everything."
The divorce documents also include a June 2005 police report stemming from an incident when Jones called the cops on Prescott (formerly known as Jones) because she was "very scared" of the way he was acting.
Jones told police that Prescott verbally attacked her for getting a ride home from a bar with a male friend, and accused her of cheating.
Article continues below advertisement
After Jones said Prescott was attempting to learn her male friend's identity from a license plate check, cops checked his extensive weapons collection, which included pistols, rifles, shot guns and BB guns.
"..The guns were all stored properly in a locked cabinet on the third floor of the home," an officer reported.
Kate Plus 8 reality star Gosselin, 40, said she was worried about her eight children's safety when her ex-husband Jon, 38, fired a gun on his property in March 2014.
Despite their messy divorce, Prescott tells RadarOnline.com that he and his ex are now on good terms.
"As for the divorce issues, most of them do not carry any merit," he explains. "We went through some tough times that were short lived. Michelle and I get along great and have for a long time."
Gosselin and Prescott, who reportedly began dating in January, were last spotted together on a romantic dinner date in Philadelphia on May 8.