Exclusive
A New Storm Brewing? Countess LuAnn de Lesseps Slams Heather Thomson, Declares 'Our Friendship Is Declining!'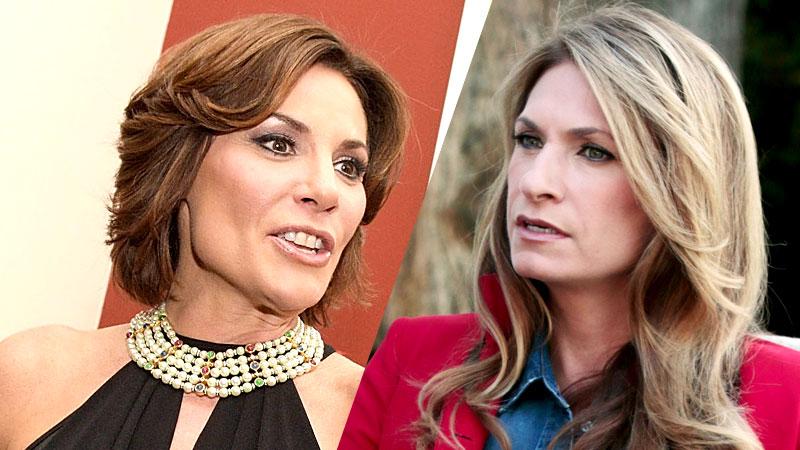 The Real Housewives of New York has seen its most explosive season yet thanks to tensions between Bethenny Frankel and Heather Thomson. Now, Countess LuAnn de Lesseps tells RadarOnline.com that she's about to get in on the action with her own feud against Thomson!
"Let's just say our friendship is declining," the ever-tactful "Girl Code" singer teased. "The escalator is not going up, it's going down."
Article continues below advertisement
According to de Lesseps, Thomson doesn't know when she's overstepping her boundaries, and that that is why Frankel got so frustrated when Thomson kept asking intimate questions about her personal life all season long.
"When you approach somebody and you see they don't really want to have you in their business, you kind of back away, but that's not her strategy," de Lessseps explained. "She just keeps on pushing."
Thomson isn't the only one having problems with Frankel, however. Kristen Taekman has also had issues playing nice.
"Bethenny's an old player at the game, and she wants to be dealt in at the poker table," de Lesseps said of Taekman's advances on Frankel.
But she says that Frankel might be to blame for her own issues with the women.
"Overall the women were a little suspicious of her, or didn't know what her motivation was, weren't as open-minded as I was," de Lesseps said. "She's not the easiest person to get to know. I don't know if she has that much in common with some of the women either."
Article continues below advertisement
But ultimately, de Lesseps is happy that Frankel came back.
"I just know her so much more than they do," she said. "I from the beginning thought it was genius having her back. She makes a good reality housewife."
And what about the newbie, Dorinda Medley?
"Love her," de Lesseps confessed.
Although the women have attacked Medley's relationship with her boyfriend John Mahdessian, de Lesseps warned it's par for the course on the show.
"When you put yourself in front of these women, you got to be ready with your shield of armor," de Lesseps explained. "Maybe John's not always the best at handling the women, but he loves Dorinda, so that's what's important to me, and he makes her happy."
Finally, de Lesseps weighed in on her old pal Ramona Singer. Despite their issues in the past, she said, "We found an even playing field. 'm always skeptical and I always keep my eyes wide open, but I think we've created a friendship and I think her divorce has made her much more humble."
"I mean, she would not be the woman I'd call in the middle of the night scared or if I needed somebody, but we are much better than before, and we are friends," de Lesseps concluded.