Fight Night On 'RHONY'! Bethenny Frankel Confronted By Kristen Taekman After Calling Her 'Dumb'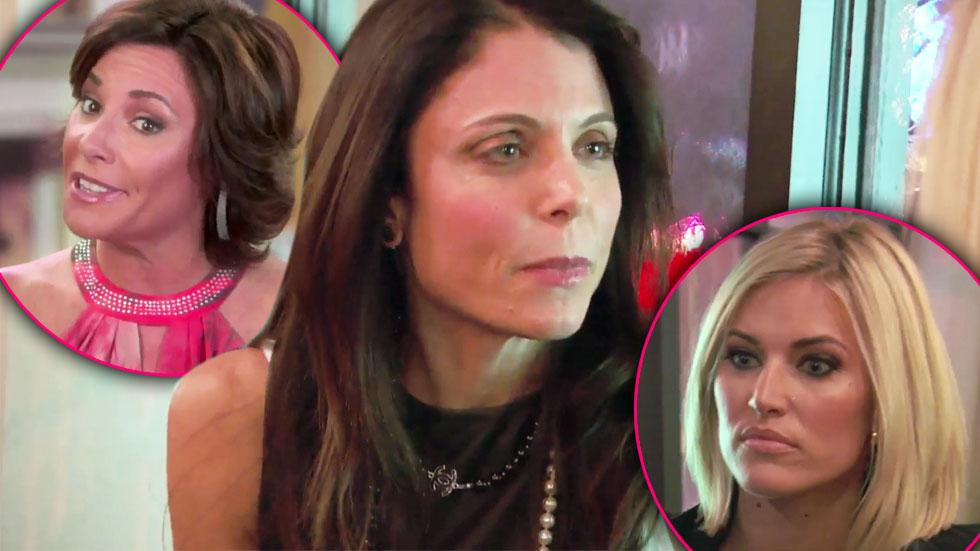 Bethenny Frankel mended AND burned bridges on Tuesday's Real Housewives of New York, making up with Heather Thomson, yet feuding with LuAnn de Lesseps and Kristen Taekman.
But before Frankel and Thomson officially buried the hatchet, they went one more round with their fight from last week's episode.
When Thomson tried to help Frankel find something she could eat at Dorinda Medley's birthday dinner, the Skinnygirl went off on her for being too "nurturing."
Article continues below advertisement
"I don't want any attention," Frankel explained. "I just want to live and I want to find a way to just not have it be about me. I'm over myself. I'm sorry."
Thomson accepted her apology, and agreed to get to know Frankel when she is ready to put her walls down.
But although the fight seemed over, Frankel fired up at Thomson again, when she heard her discussing the altercation with de Lesseps.
"Do me a favor, don't say, 'Wow' after and start talking about it five seconds later," Frankel fired. "I'm right here!"
When the women returned from the Berkshires, they gathered for Ramona Singer's pre-Christmas party at her new restaurant, AOA. But the women weren't in the holiday spirit, as de Lesseps confronted Frankel about her fight with Thomson.
The Countess said, "You lost your s**t at dinner. I was a little worried about you. What's happening?"
When Frankel responded that she is fine, de Lesseps pressed her on the issue and even took Thomson's side.
Article continues below advertisement
"She was trying to be kind," de Lesseps said of Thomson. "She was trying to fix it, because she's a fixer."
When de Lesseps said that Frankel was the one pushing Thomson away, the mother-of-one looked passed her guise.
"I'll reenact what you just did," Frankel said. "'Hey, are you okay? Is everything okay? Because Heather was being so lovely to you and wonderful and care-taking and nurturing and putting you in the bassinet and giving you pacifiers and giving you milk.'"
Watch the video on RadarOnline.com
The Countess said in her confessional, "Bethenny is coming after me for no reason. I came in with good intentions and was concerned about her when Heather was being annoying."
Bethenny ended the argument with, "You need to not deliver things in pretty packages that aren't pretty -- I want you to keep it real -- shoot straight."
Up next was Taekman, who was told earlier in the evening by Carole Radziwill that Frankel called her "so dumb," for not getting her nail polish brand Pop of Color trademarked.
MORE ON:
Real Housewives of New York
Article continues below advertisement
"I feel like we haven't really connected at all -- I feel like with you in general there are these walls up," Taekman told Frankel. "Carole tells me tonight that apparently I'm dumb because my Pop of Color is not trademarked.
"I'm totally flattered that you take the time to Google my company, but now you're telling me that it's not trademarked?"
But before Taekman could say another word, Frankel stood up, refusing to continue being "attacked."
She explained in her confessional, "I'm sitting there and I'm watching someone hold a gun while they're loading the bullets. I'm not going to sit there and wait to get shot."
As Taekman chased after Frankel, the author searched for Thomson to put an end to their fight from the Berkshires -- again.
"I don't know what I did to upset you so much," Thomson said. "You have a wall up and I can't get to know someone with a wall up."
Article continues below advertisement
Frankel responded, "I do have a wall up. For whatever my part is, I'm sorry."
As the duo ended the fight with a hug, Thomson said that she isn't going to jump into their friendship "headfirst" despite the truce.
Also on the episode, Singer updated her daughter Avery on her relationship with estranged husband Mario Singer, who cheated on the reality star with alleged mistress Kasey Dexter.
"Has your father told you that he's trying to pursue me so to speak? He wants to reconcile and stuff," Singer revealed.
When Singer asked how Avery would feel if the couple got back together, the teen replied, "I think you should do whatever you want. It's your life. You guys have a lot of history together and he overall has been a good husband and a good dad for the 20 plus years."
Singer said in her confessional, "Ultimately, I would really love to have my marriage work out with Mario and I. Is that a possibility? I don't know."
The Real Housewives of New York airs Tuesdays at 9/8c on Bravo.