Did Tom Cruise Preach Scientology To 'Mission Impossible' Cast? Co-Star Speaks Out!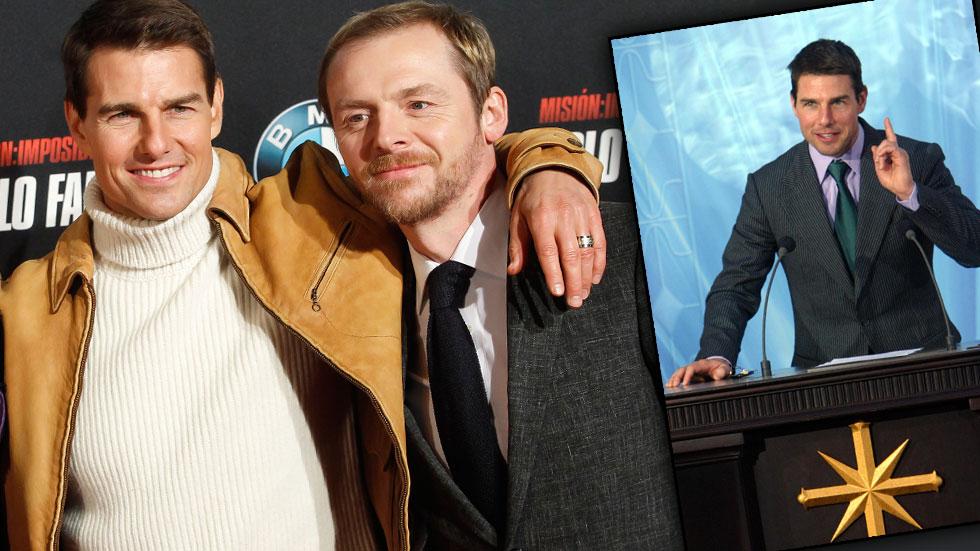 Tom Cruise has no problem declaring his appreciation for the Church of Scientology, but does he ever cross the line when it comes to recruiting new members? Simon Pegg, who co-stars with Tom Cruise in the upcoming film, Mission: Impossible - Rogue Nation, spoke out to set the record straight about Cruise's high-profile Scientology status in a new interview.
"I've known him for 10 years and Scientology has never come up," Pegg said. "It's not something he talks about or preaches."
Article continues below advertisement
Instead, the two pals are busy having bromantic fun on and off the set of their film. "I really like hanging out with him," he gushed. "We do these workouts together, which are a lot of fun. There's a lot of high-flying. A lot of fist-bumps."
Pegg did acknowledge that Cruise tries to ignore the media hubbub. "He doesn't participate with the public persona of himself, or do anything to alter it," Pegg remarked. "I think he's quite happy to allow a degree of mystique to flow around him, because it makes him more enigmatic and more interesting as an actor."