Exclusive
The House That MTV Built! 'Teen Mom' Network Foots Bill For Amber Portwood's Rent & Security Deposit, Hands Over Nearly $6K To Realty Firm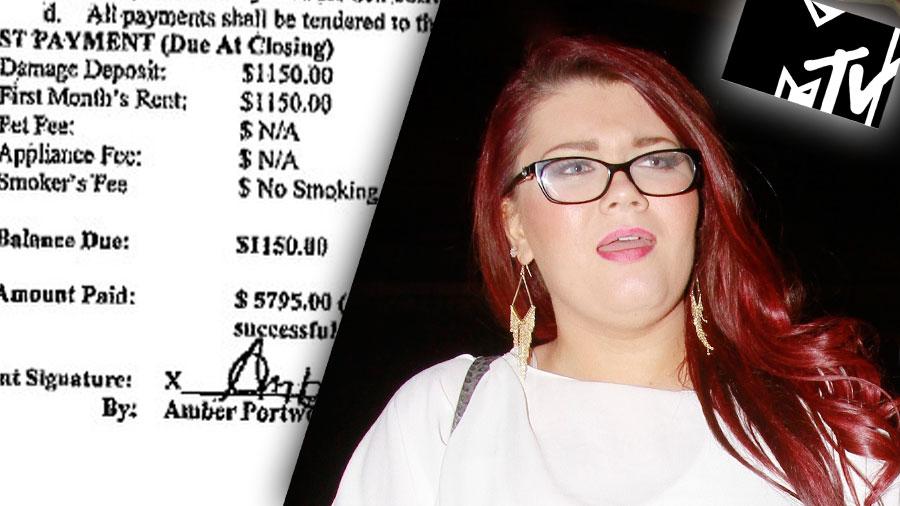 Amber Portwood may be living on her own after her November 2013 release from prison. But the former jailbird's not paying her own way just yet.
According to court documents exclusively obtained by RadarOnline.com, MTV footed the bill for four months of the Teen Mom OG star's rent on her Ingalls, Indiana home, along with her security deposit and application fee.
On June 27, 2014, MTV wire transferred $5,795 directly to Realty Wealth Advisors LLC to cover the costs, the property management firm claims in papers filed in Indiana's Madison County Circuit Court.
Article continues below advertisement
As RadarOnline.com previously reported, the 24-year-old reality star was slapped with an eviction lawsuit last month. The case was dismissed at the plaintiff's request just two weeks later when sources say Portwood paid up, but her financial records raised eyebrows and brought up new questions.
After MTV's fat check ran out, Portwood was charged late fees in November and December 2014. She got back on track with timely payments for January and February 2015, but then in March, her $1,150 check bounced, apparently infuriating the realty firm and prompting them to file the lawsuit.
Earlier this week, sources told RadarOnline.com that the college student believes the firm made a "big deal over nothing," and just wanted publicity for their company though her fame.
Portwood's fiancé Matt Baier, 43, lives with her full time, while her 6-year-old daughter Leah is a frequent visitor.