Girl, Hi! NeNe Leakes Brags About Signing 'A Really Big Deal With Kim Kardashian'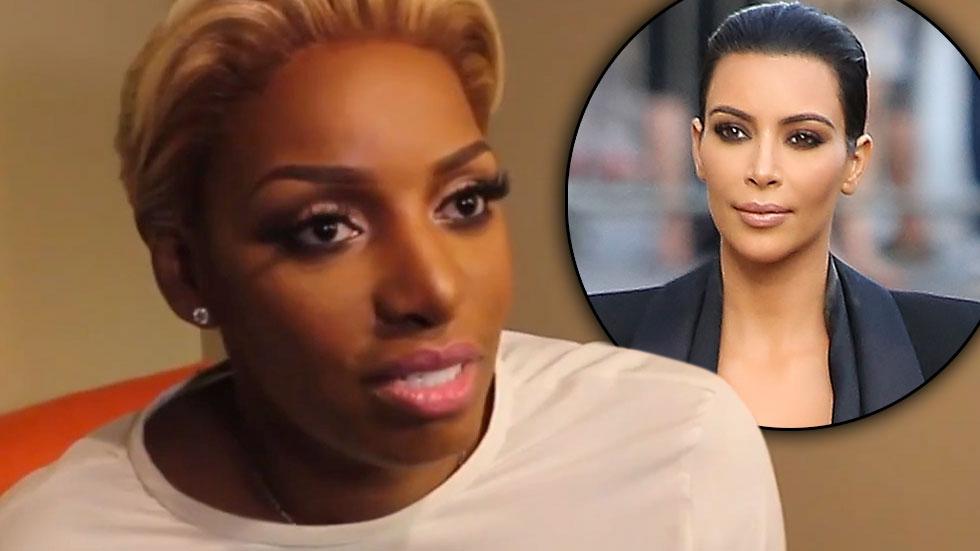 It's been a big week for NeNe Leakes, who rubbed shoulders with Rihanna and is now opening up about getting involved in "a really big deal with Kim Kardashian."
In a backstage interview prior to her appearance on The Meredith Vieira Show this week, the Real Housewives of Atlanta star gave a vague preview of her upcoming collaboration with her fellow reality TV superstar.
"I have a really big deal with Kim Kardashian, we haven't released a statement on it yet," Leakes said, adding that they will share more details about the longterm project "in the next few weeks."
Article continues below advertisement
"I've signed something really interesting with her for the next couple of years, so that's going to be something that's really interesting."
In related NeNe news, the Broadway beauty told Extra that she might not return to the Bravo series unless certain casting decisions are made to her liking: namely, getting rid of the show's single ladies -- both her rivals -- Kenya Moore and Claudia Jordan.
"I don't know if I'll return or not, I don't know," the charismatic star said. "I will return, however, if some of the other girls leave the show, because the show's called the 'Real Housewives of Atlanta.'
Watch the video on RadarOnline.com
"There're a lot of women on the show this season who are single, they're not moms, they're not married, not dating."
Without mentioning either Moore or Jordan by name, the mercurial celeb even waxed on about the possibilities replacing one of them with another single lady.
"I'd love to see a single woman on the show that's dating, think that's great, and fun to have that girl that's looking for love, but we have too many girls that are looking for money instead of love ... I feel like we have a bunch of gold diggers on the show, so it'd be great if we found somebody really looking for love."
The Real Housewives of Atlanta airs Sundays on Bravo at 8/7c.