Kylie Jenner Sports Gold Band On Her Ring Finger – Getting Serious With Tyga?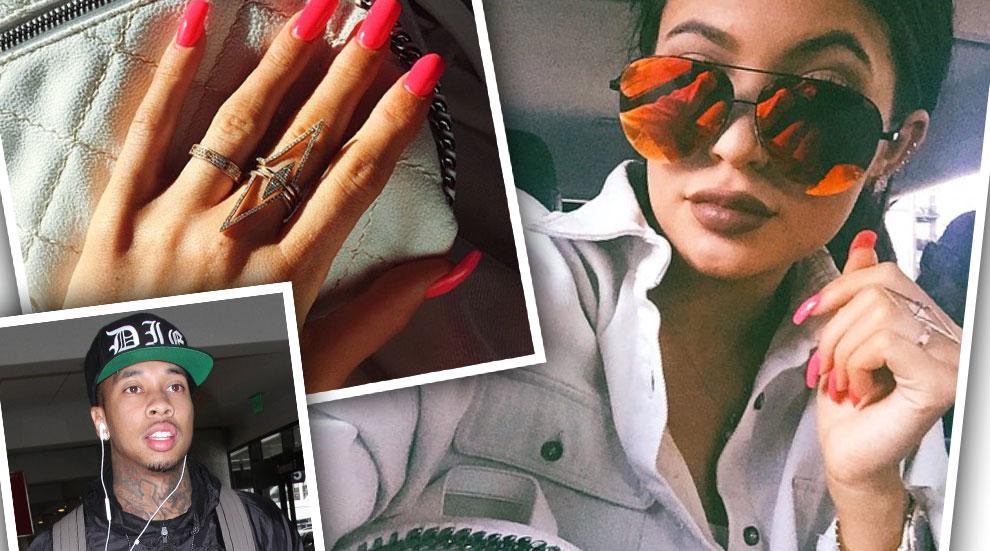 Did Kylie and Tyga take their relationship to the next level?
Jenner shared a selfie to her Instagram followers on Thursday in which she sat passenger's side, sporting a pair of glamorous shades.
But no one was looking at her face! Instead, a gold band plainly visible on the reality star's left hand distracted her fans, leading many to believe she had been serious when she said she wanted to marry her rapper boyfriend someday.
Article continues below advertisement
https://instagram.com/p/29hxhqnGuU/?taken-by=kyliejenner
As RadarOnline.com previously reported, the pair – who only recently admitted to being a couple at all – have been secretly engaged for a few weeks now!
"Kylie accepted Tyga's proposal a few weeks ago and made the announcement to her family," an insider told In Touch magazine. "She wants to get married as soon as she turns 18 in August."
Unfortunately, the situation is a little more complicated than "happily ever after."
Tyga, who has fathered a child with Blac Chyna, is currently involved in a bitter custody battle over their child, King Cairo. Marrying Tyga would make Jenner King's step mother, a role that some may feel, she is not ready to assume.
Regardless, Jenner is head over heels, and ready to start a life with her new fiance, according to the insider. "She's a teenager in love."
Do you think Kylie and Tyga will tie the knot soon? Let us know in the comments below!