What's The Rush?!​ Kylie Jenner & Tyga Are Secretly Engaged, New Report Claims -- Inside Their Big Decision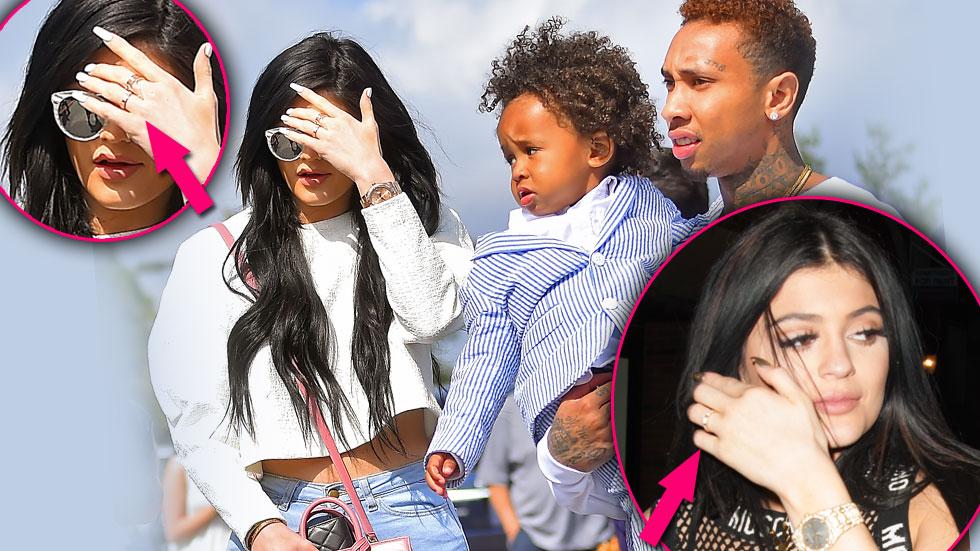 Rapper Tyga, 25, raised lots of eyebrows when he began dating his 17-year-old neighbor, Kylie Jenner. Now the pair, who have only recently admitted to being a couple, are taking their relationship to a whole new level, according to a new report -- engagement!
"Kylie accepted Tyga's proposal a few weeks ago and made the announcement to her family," an insider told In Touch magazine. "She wants to get married as soon as she turns 18 in August."
Article continues below advertisement
The source claimed that Kylie "can't wait' to get married to Tyga, who has already proven his dedication to the teenage reality star by tattooing her name on his arm. "She told her friends that Tyga gave her a 'symbolic ring' for now and she isn't showing anyone until her birthday, when she'll make an official announcement... They're tired of hiding," the source said.
Tyga, who has fathered a child with Blac Chyna, is currently involved in a bitter custody battle over their child, King Cairo. Marrying Tyga would make Jenner King's step mother, a role that some may feel, she is not ready to assume. "She's been exposed to more diverse experiences in a shorter period of time than other people, yet her brain is still adolescent," an expert said.
Tyga may provide a source of comfort amidst all of the chaos in Kylie's life, however, including the recent revelation that her father, Bruce, will be transitioning into being a woman. "This would be a stressful situation for any child at any age," said the expert. "Many teens imagine that a relationship can be an anchor."
Regardless of the reason, Jenner is head over heels, and ready to start a life with her new fiance, according to the insider. "She's a teenager in love."