Kylie Jenner Instagram Snap Sparks Butt Injection Rumors, The Noticeable Difference In New Video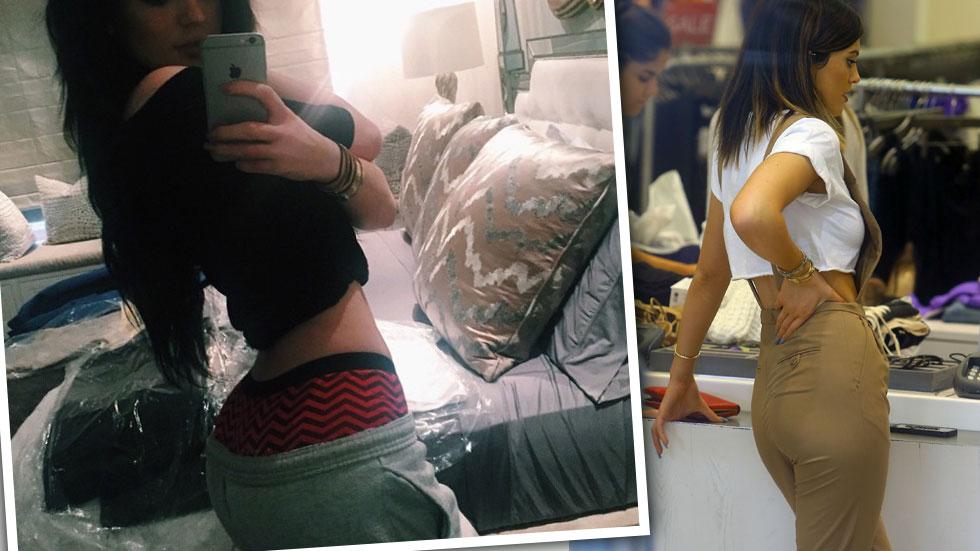 Kylie's booty has some explaining to do!
First it was her questionably plump pout, but now Kylie Jenner's bulging backside has everyone talking again.
The 17-year-old came dangerously close to "breaking the internet" when she posted a firsthand look at her now-unfamiliar rear. Perhaps she should've warned us that "images are smaller than they appear."
The reality star captioned the photo: "Staying comfortable in my @meundies Time to jump in bed after this long week."
Article continues below advertisement
https://instagram.com/p/zdMdlcnGpp/?modal=true
The snap received mixed reviews on social media, some fans raving over her curvaceous figure while others accused her of enhancing herself with plastic surgery.
Interestingly, Kylie was spotted just days before with a noticeably flatter rump, taking care of some retail therapy with sisters Kim and Khloe.
Watch The Video On RadarOnline:
Compared to her bodacious sisters, Kylie appears quite slim on her backside. Kim even appears to draw attention to that fact, giving her little sis a booty tap at the check-out counter -- key word little.
Of course mum's the word for Kylie, who famously laughed off rumors about lip injections a few months ago:
"How long are we gonna talk about this lip thing lmao," she ranted on Twitter. "Let's get our lives together guys and talk about some important sh*t. Just talk about something new at least. I'm bored."
Safe to say there's something new to talk about!
Do you think Kylie has gone under the knife? Sound off in the comments below!