Exclusive
Soap Star Kristoff St. John Sues Hospital Where Son Committed Suicide — Could He Have Been Saved?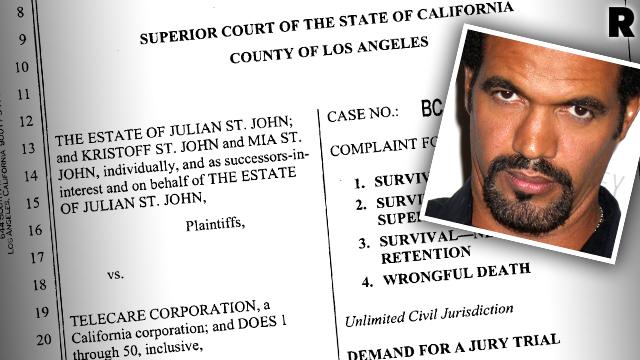 Young & The Restless star Kristoff St. John and his wife, Mia, have filed a wrongful death lawsuit against La Casa Mental Health Hospital, for allegedly failing to prevent their son, Julian, 24, from tragically committing suicide at the facility last year.
Julian St. John, 24, was found dead with a bag over his head in a bathroom at Long Beach, California's La Casa Mental Health Hospital last November 23.
Article continues below advertisement
According to the lawsuit filed by the family's attorney, Mark Geragos, Julian began exhibiting symptoms of paranoid schizophrenia as a teenager, and in 2013, attempted to kill himself by running into oncoming traffic.
After threatening to commit suicide in September 2014, Julian's parents gained conservatorship of their troubled son, and had him hospitalized at La Casa Mental Health Rehabilitation Center.
Initially, because of the suicide threat, "Julian was placed under close observation by La Casa's staff," the lawsuit states. "Part of the close observation protocol requires an on-duty nurse to personally check on a subject patient at fifteen-minute intervals, twenty-four-hours a day."
After escaping the facility, and being returned by cops on October 31, the staff "observed Julian repeatedly placing his fingers in his throat and vomiting," according to the court documents. "On November 5, 2014, Julian attempted to kill himself with a plastic bag."
Article continues below advertisement
Julian's roommate notified the staff about the attempt as the staff allegedly didn't discover the suicide attempt, despite still being "closely monitored."
On November 20, Julian's doctors ordered the one-on-one observation to be stopped, despite his mother Mia's pleas that her son was still "experiencing suicidal ideations."
Three days after the observation was terminated, the "staff found Julian face down on the floor of his bathroom, with a plastic bag over his head … Julian took his own life in the exact same manner he previously attempted less than three weeks prior, in the exact place, and using the exact same type of plastic bag."
The lawsuit cites failure of the staff to remove the plastic bags from Julian's room, keeping fraudulent medical records, and failure to keep him on suicide watch as contributing factors for the wrongful death.
The St. John's are seeking general damages, special damages, and attorney's fees.