Exclusive
Drug Arrests, Rehab & Dark Days: Court Documents Reveal Tragic Struggle Of Soap Star Kristoff St. John's Son In Years Before His Death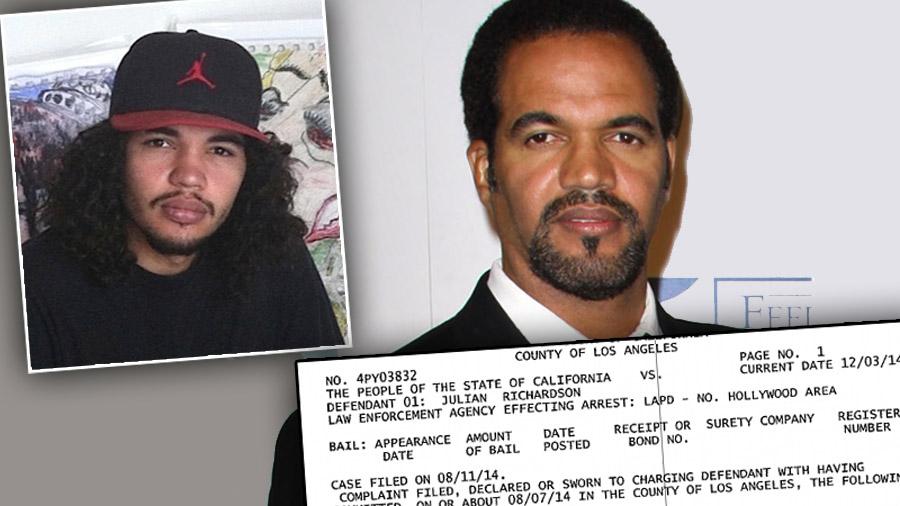 Julian St. John will be laid to rest today on his 25th birthday after he reportedly took his own life on Nov. 23. In the days after his untimely death, Julian's parents, Young & The Restless star Kristoff St. John and pro boxer Mia St. John spoke out about their son's ongoing struggle with schizophrenia. Now, in exclusive court documents, RadarOnline has uncovered more about the tragic, turbulent life of the gifted 24-year-old. With multiple arrests, domestic violence, meth use, and rehab attempts, it was a brutal struggle to get well — one that ultimately claimed his life.
Article continues below advertisement
According to court documents, Julian's serious trouble started when he was 19. On April 21, 2009, he was arrested by the LAPD for a misdemeanor DUI and found to be under the influence of a controlled substance, according to the docs.
The outcome was a harsh lesson for the teenager. He was not only found guilty, but given 36 months of probation and sentenced to 90 days in jail. As part of the ruling, Julian had to enroll in a three-month alcohol and drug prevention program. But in lieu of serving time behind bars, he ended up entering a live-in program.
Julian's run-ins with the law only escalated as the years came and went. By 2011, he had been arrested for domestic battery in Topanga, Calif. resulting in a two-day jail stint and completion of a 52-week domestic violence program. And just weeks later, the judge issued a warrant for his arrest again for failing to show up in court, causing Julian to spend more time behind bars.
Article continues below advertisement
In April 2012, according to the court documents, Julian was placed under a doctor's care instead of entering a domestic violence program.
But even a physician's supervision couldn't keep Julian out of trouble. On July 11, 2012, his probation was revoked after failing to appear before a judge for a status update and another warrant was issued for his arrest, resulting in 60 days in jail.
From that point on, it seemed that Julian was on the road to recovery for over a year, but slipped back into a world of drugs. He was arrested on Nov. 22, 2013, for possession of paraphernalia used for injecting or smoking opium, as stated in the court documents.
Julian ended up pleading guilty and a Van Nuys, Calif. judge ordered him to stay on his medication and enroll in a substance treatment program.
Less than three months later, another warrant was issued for his arrest in the amount of $30,000 and he was released into the care of his mother, Mia, in June.
And weeks before he reportedly took his own life he was arrested for the seventh time in North Hollywood, Calif., for possession of methamphetamine, and was given 45 days in jail.
Article continues below advertisement
Julian ended up paying the ultimate price when his body was found in the bathroom of a hospital in Long Beach just days before Thanksgiving.
In a statement released Dec. 3 to Entertainment Tonight, Julian's father shared the sad news: "His legacy will live on in our hearts and for those that continue to suffer from this insidious disease," Kristoff said in part. "My ex-wife Mia, Julian's sisters Paris and Lola and I, are all devastated beyond words and belief. We mourn the loss of our son, brother, artist, poet, and a giant of a young man. A beautiful life gone much too soon. Julian will forever be remembered as he now takes flight with Angels."
If you, or anyone you know, is struggling with thoughts of suicide, please immediately seek help — you can speak with a skilled, trained counselor at a national Suicide Prevention Lifeline crisis center in your area, anytime 24/7 — call 1-800-273-TALK (8255).