Exclusive
Kim's Nightmare! The Man Who Killed Richards' Fiancé Is Up For Parole — The Real Story Behind The Murder REVEALED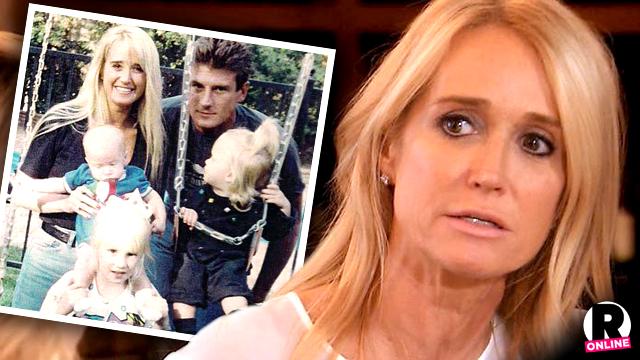 Kim Richards is fighting to win back sobriety from her continued downward spiral into severe alcoholism. But she could still be facing her bravest – and scariest -- battle yet, as RadarOnline.com has learned exclusively that the man who murdered her fiancé could soon be set free!
According to information obtained by Radar, Marva DeCarlo Johnson was found guilty of the first-degree murder of Richards' fiancé John Collett in 1993. He was sentenced to 30 years to life with the possibility of parole, and is scheduled for a subsequent parole suitability hearing on September 10.
Article continues below advertisement
Documents from previous parole board hearings reveal the brutal and senseless nature of his admitted crime.
READ The Shocking Parole Board Reports
It was October 28, 1991, when Johnson allegedly met Collett in the front parking lot of a deli in Northridge, California. They conversed for about 20 minutes, at which time Johnson grabbed Collett, then 29, in a headlock with his left arm and shot the victim three times in the head with a handgun, the documents state. Johnson fled to a waiting car, but did not take cash or a cell phone off Collett's dead body – which was laying next to his Porsche.
According to the documents, two hours after the crime Johnson confessed to friend "that he had just gotten paid for a job" and showed him a "wad of bills 1.5 to two inches thick."
During the hearing to first consider his release in 2008, Johnson actually denied that he was hired as a hitman to kill Collett. But rather, he said he met him through a mutual friend when he was seeking money to invest in his upstart computer business.
Article continues below advertisement
Johnson claimed Collett wanted to use his fledging computer business to "launder money" in exchange for a $200,000 investment Johnson desperately needed.
"I just knew that he had a great sum of money that he was trying to get rid of," Johnson said. "And the idea of me buying extra and additional stock for my business came in. And it would essentially launder his money if I was to buy and resell computer equipment using that cash and being able to send it through corporations."
Only, during their business meeting Johnson said he didn't want to do the dirty deal, Johnson claimed, and Collett, who he described as a "high temper person", was "mad" and "disrespecting" him.
"I just said, hey, I don't want your f**king money, you know… you guys can do that, but my business is new and I want my business to be straight," Johnson told the board.
After a struggle, Johnson said he "got the best of" Collett, who he alleged pulled a gun out of his side.
Article continues below advertisement
"You just can't walk away from a fight that's in," he told the board, explaining why he didn't just walk away.
Johnson insisted he killed Collett in self-defense, although he pleaded guilty to first-degree premeditated murder.
He also denied fleeing into a car, but instead admitted that while "stunned", he walked around the corner to a shopping plaza and was "about to pass out" due to low blood sugar, so he casually ordered two lemonades as his victim lay dying on the ground. He said he didn't wait for police because he thought Collett was connected to organized crime.
After "destroying" the gun, Johnson was able to evade police for a week before he was caught. He initially said the money that he showed a friend was actually a $30,000 insurance settlement he received for an injury a couple months prior, per the docs.
Shockingly though, Johnson then admitted to getting paid for the killing and shooting Collett three times in the head, but said he did it only after the young commodities salesman tried to "hit" and "shoot" him.
Article continues below advertisement
He confessed to the board that there were "other options" to deal with the tensions besides murdering him, adding that he regretted what he did: "I do feel bad," he said.
Johnson said he didn't turn himself in because he knew he was in "big trouble" and "had a lot of stuff he really needed to take care of." But he insisted his actions didn't make him a criminal mastermind.
"I'm not a criminal in the sense of knowing what to do and what not to do," he said. "I'm very naïve of my law, and I just did what I felt I needed to do before I came to jail."
He added that despite his ever-changing version of the crime, he pleaded guilty because of his conscience.
"I had did something wrong sic," said Johnson, who also received praise from the Board for his work as a "positive role model" behind bars at California Medical Facility in Vacaville, California, by working as an ADA assistant, literacy tutor, and for his participation in anger management and lifer groups. "I was raised to accept your punishment."