Exclusive
Monster Mom Has Met Her Match! Kate Gosselin's Millionaire Boyfriend Jeff Prescott Accused of Child Neglect, Manipulation By Ex Wife In Court Documents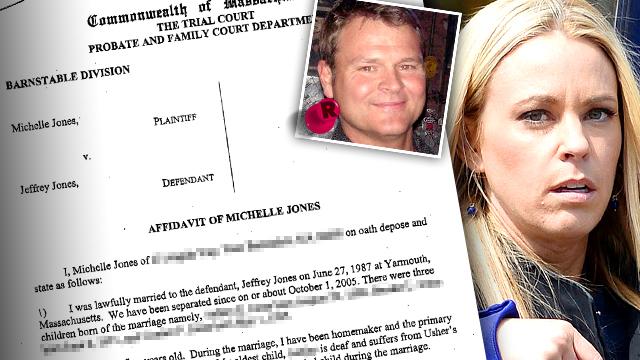 Kate Gosselin has been accused of spanking and berating her eight famous children, but her millionaire boyfriend, entrepreneur Jeff Prescott, has his own history of poor parenting claims.
The Dreamstime co-founder's ex-wife Michelle Jones accused the 51-year-old of neglecting their three children during the couple's nasty 2006 divorce, RadarOnline.com can exclusively reveal.
In Massachusetts court documents obtained by RadarOnline.com, the homemaker claimed her husband of nearly 20 years has had "infrequent" visits with Ashley, Brooke, and Connor, who were then 19, 14 and 10 respectively.
Article continues below advertisement
READ THE SHOCKING COURT DOCUMENTS
Since their separation five months prior, "he has had Connor two times overnight," she stated in the affidavit. "He has not taken the girls at all overnight."
She also alleged the CEO would frequently skip town "on business and pleasure," without giving his estranged wife or their children, one of whom is disabled, any notice.
"There have been times when he has not answered his cell phone for days," Jones claimed.
When Prescott was in contact with the children, Jones said, he manipulated them into taking his side in the bitter split.
In a February 15, 2006 email presented to the court, Prescott told young daughters Ashley and Brooke "I…want to make it very clear that I have given your Mom every chance to try and settle things in a way that would not require all that is about to transpire. Again, she has chosen this battle for reasons I cannot understand."
Article continues below advertisement
"We will spend a ton of money on lawyers. Money that I would have rather seen go to you guys or your Mother but she sees things differently," he continued.
Later that week, after Jones sought a restraining order against Prescott for "jealous" behavior, she claimed the father of three left his teen daughter Ashley upset.
"He told her that all sorts of terrible thing were going to happen if I obtained a restraining order such as 'loss of our home,'" she alleged. "He told her that she may 'not be able to go to college.' He told her we may go 'bankrupt.'"
Nine years after the messy divorce, Prescott exclusively tells RadarOnline.com that he and his ex now "get along great."
"As for the divorce issues, most of them do not carry any merit," he explains. "We went through some tough times that were short lived. Michelle and I get along great and have for a long time. Our children are great kids with awesome values as a result of having a good mother and a caring, loving father."
Jones even told RadarOnline.com she gives Prescott and Gosselin her blessing as the relationship grows more serious.
"He deserves happiness," she says.