Exclusive
Kate's Nightmare! True Extent Of Gosselin's Monster Mom Abuse Detailed In Bombshell Court Filing: Violent Spankings & Shocking Neglect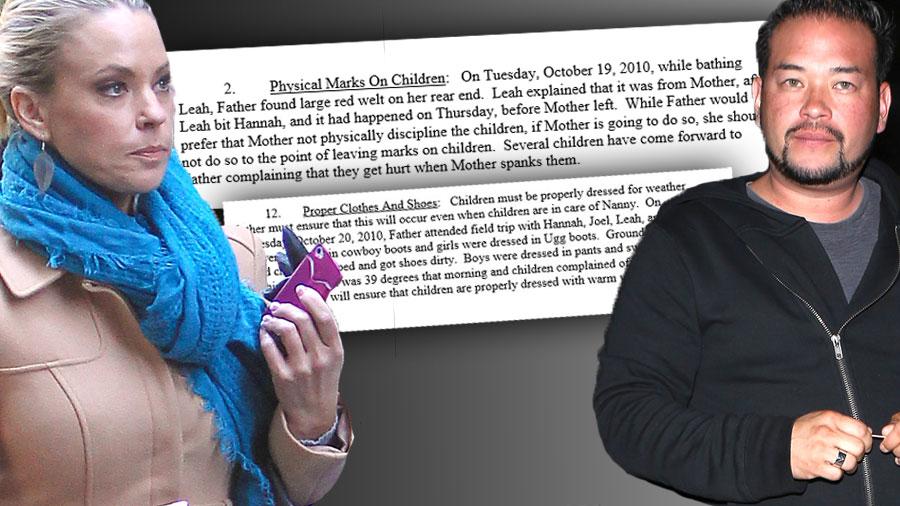 Kate Gosselin has been accused of spanking her eight children with a wooden spoon and berating her oldest twin daughters in front of strangers. But in bombshell court documents exclusively obtained by RadarOnline.com, her ex-husband Jon Gosselin has even more shocking claims about the Kate Plus 8 star's controversial parenting style.
The former reality TV dad, 37, brought up a startling number of "unresolved issues" in Berks County, Pennsylvania civil court in October 2010, one year after they announced their plans to divorce on their TLC talk show.
Article continues below advertisement
In his "Father's Statement of Issues," Jon's lawyers reveal that his ex, 39, hit their daughter— then just 5 years old— so hard, she left bumps and bruises.
"On Tuesday, October 19, 2010, while bathing Leah, Father found large red welt on her read end," the document states. "Later explained that it was from Mother, after Leah bit Hannah…Several children have come forward to Father complaining that they get hurt when Mother spanks them."
Jon's attorneys go on to say he doesn't approve of Kate's tendency to put her hands on their kids.
"While Father would prefer that Mother not physically discipline the children, if Mother is going to do so, she should not do so to the point of leaving marks on the children," the papers continue.
Kate was not only an abusive parent, Jon alleges: She also neglects to properly clothe their children, leaving them cold and dirty.
Article continues below advertisement
"Children must be properly dressed for weather," his lawyers state. "On Wednesday, October 20, 2010, Father attended field trip with Hannah, Joel, Leah, and Aaden. Boys were dressed in cowboy boots and girls were dressed in Ugg boots."
"Ground was cold and wet and children slipped and got shoes dirty. Boys were dressed in pants and sweatshirt, with no undershirt or coat. It was 39 degrees that morning and children complained of being cold."
"Both Mother and Father will ensure that children are properly dressed with warm winter attire."
Nearly five years later, the bitter enemies are still fighting over the kids.
Jon "would love to take her to court and get total custody of the kids," a source told Life & Style last summer. "He'll do whatever it takes."