Exclusive
Claim: Kate Gosselin Was So Physical With Her Son She Was Scared She 'Might Injure A Child'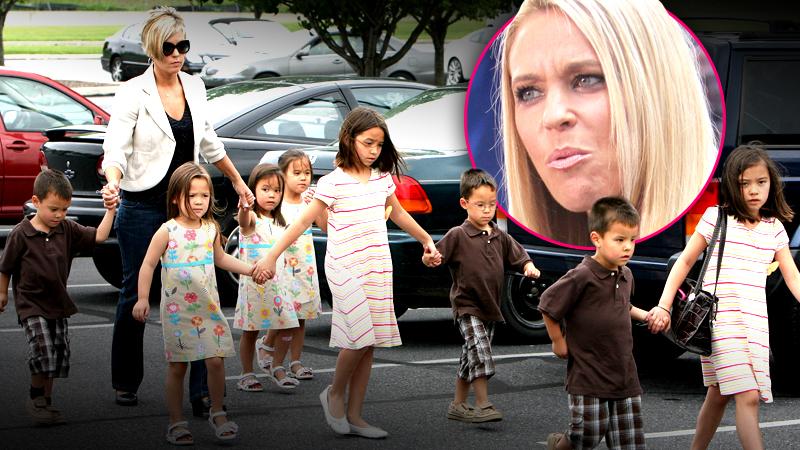 Article continues below advertisement
"The kids were outside playing and Collin poured some beans on the floor and was sent inside. He didn't like that so he knocked down some highchairs in the kitchen and that set Kate off," he writes.
"Kate said that she was instantly so SO angry that she grabbed him and spanked him as hard as she could and thought that she may seriously injure him so she sent him to his crib and whipped him into it very hard!"
According to the alleged journal entry, Gosselin, 39, decided to leave little Collin — 2-years-old at the time — in his crib until Jon got home from work because she was scared of how she might react.
"Kate Gosselin said that for the first time she thought she might really lose it and she was glad that she left him in his crib until Jon came home from work," Hoffman wrote.
"Kate wrote today was the day that she felt like she may really seriously injure a child!"
Article continues below advertisement
Gosselin wrote she felt like a terrible mom.
Later that month, according to another alleged journal entry, Gosselin said she "learned that spanking toddlers in diapers for climbing out of their cribs doesn't work so now she makes the offenders stay in their cribs for at least a half an hour while everyone else goes down stairs."
Hoffman continued to document Gosselin's discipline methods and what he describes as her selfish and vain behavior with a Feb. 2007 incident.
"Kate got a phone call from the twin's school and she knew something was wrong. One of the girls had a bloody nose and was hysterical and incoherent and the teacher said she wanted to come home immediately. Kate told her that she would come to get her asap," he wrote, paraphrasing Gosselin's journal entry.
"After Kate hung up the phone she ran to the mirror and scared herself and she discovered that a shower was in order before she could go to her hysterical child at school."
Article continues below advertisement
In addition, Hoffman says Gosselin wrote about ignoring her sick daughter until it was too late.
"That same day of great mothering found little Leah telling Kate that her belly hurt. Kate said she only half listened to Leah's cries because she was concentrating on her dinner," he wrote.
"Kate finally turned around to see her young daughter lying on the floor in front of the kitchen sink vomiting continuously and profusely!!!!!!"