Cousin Amy Duggar Speaks Out On Instagram Over Josh's Sex Abuse Scandal: 'Pray For Your Enemies'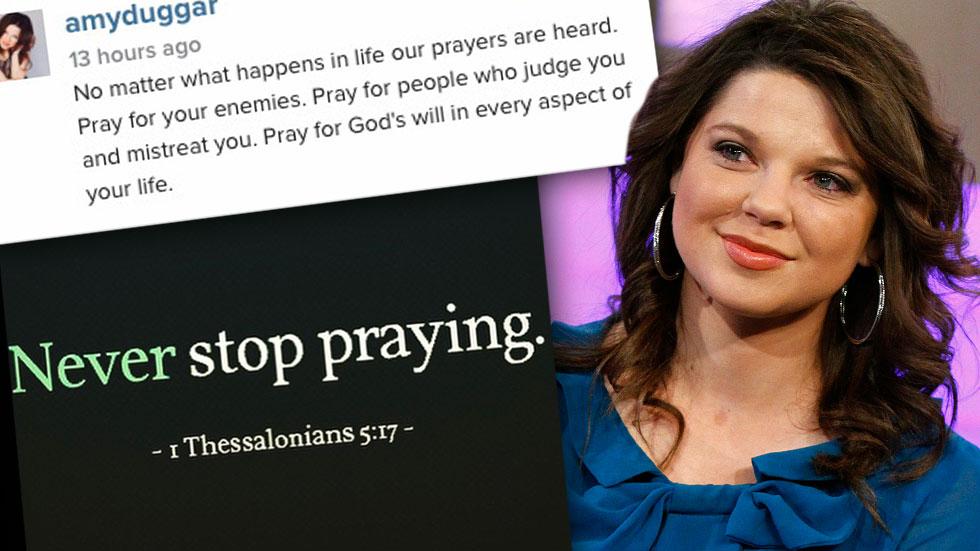 While the Duggar family remains mostly mum on Josh's sex abuse scandal, cousin Amy Duggar, 28, has stepped up to the plate, speaking out – via Instagram – in support of the family.
The amateur country singer shared a message with fans of 19 Kids and Counting, captioned:
"No matter what happens in life our prayers are heard. Pray for your enemies. Pray for people who judge you and mistreat you. Pray for God's will in every aspect of your life."
Article continues below advertisement
https://instagram.com/p/3Ps78UNkPt/
Amy's words of kindness may fall on deaf ears, however, especially after confirming reports that she had been born out of wedlock to parents Deanna Duggar (Jim Bob's sister) and Terry Jordan.
"My mom and dad did have me out of wedlock. Just because we are Christians doesn't make us perfect, it just makes us forgiven," she said in a statement in January.
The young singer's boyfriend Dillon King also showed his support for the Duggars, posting on Instagram: "I'm so thankful for this beautiful girl in my life, praying for the Duggar family in this hard time...Thank you Jesus Amy wasn't involved in the situation. Love you baby girl! Praying for your family and the love ones involved. @amyduggar."
https://instagram.com/p/2_T7eIgbPb/?taken-by=kingdillpickle
Meanwhile, the Duggar family has been busy doing serious damage control. After news broke of Josh's shocking past, four companies withdrew their advertising dollars from the TLC show, including General Mills Inc., Walgreens, Payless Shoesource Inc. and Choice Hotels International Inc.
In addition, audiences – including TLC's once own Mama June – have been lobbying for 19 Kids to be pulled off the air once and for all.