Hypocrite! Jim Bob Duggar Said Incest & Rape Should Be Treated As 'Capital Crimes'— But Protected Own Son Josh's Sex Abuse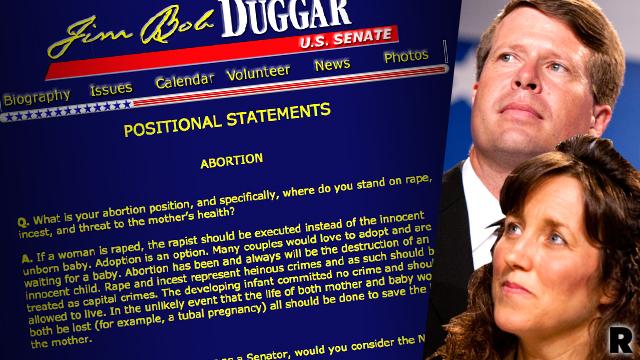 Jim Bob and Michelle Duggar may have brushed off son Josh's admitted molestations as "very bad mistakes," but when the 19 Kids And Counting patriarch ran for the U.S. Senate in 2002, he had a very different take on how to handle sex crime offenders.
While answering questions on his campaign website before the elections, the aspiring politician, now 49, denounced "rape and incest."
"Rape and incest represent heinous crimes and as such should be treated as capital crimes," he said.
Article continues below advertisement
However, horrific sexual abuse was occurring in Jim Bob's very own home around the time of the campaign.
In leaked police documents, Josh, then a young teen, was accused of repeatedly molesting five minor females in the Duggar household from 2002 to 2003.
Rather than immediately alert the police, Jim Bob confided in his church elders about Josh's horrific behavior, and sent his son to a faith-based treatment center.
Only after Josh completed rehab did Jim Bob inform the authorities. But as RadarOnline.com previously reported, state trooper Joseph T. Hutchens failed to file a report about the teen's despicable behavior.
Josh was later saved from prosecution because when police were alerted again to the crimes, the statute of limitations had expired.