Exclusive
Backlash! Disgusted Fans Call For TLC To Cancel '19 Kids And Counting' Amid Josh Duggar Sex Abuse Accusations: 'Do Not Support Child Molesters'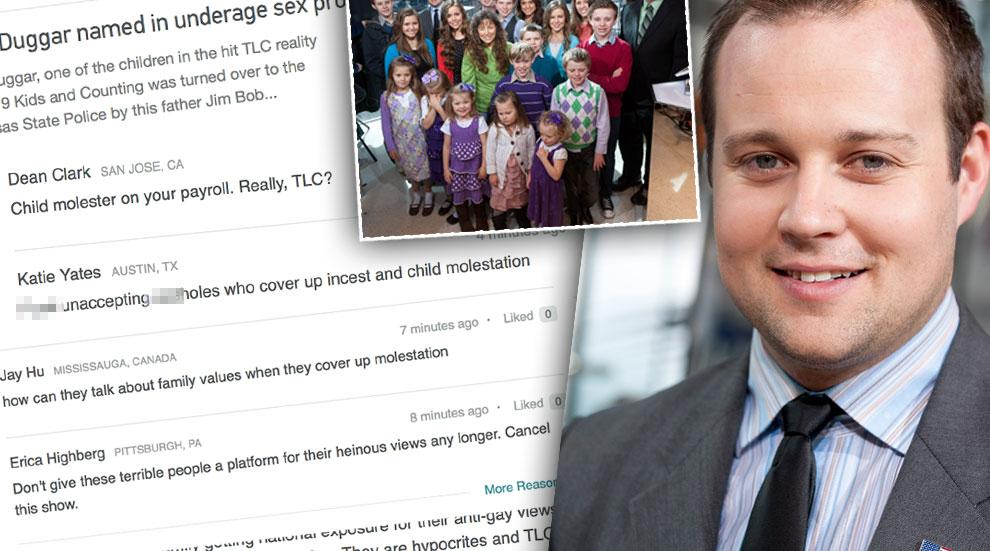 Duggar fans revolt!
Former supporters of the family are calling for TLC to cancel the fervent Christian clan's hit reality series, 19 Kids And Counting, in the wake of son Josh's molestation scandal, RadarOnline.com can reveal.
Overnight, nearly 10,000 people signed a Change.org petition for the network to put an end to the show.
The petition, which was started nine months ago in protest of the family's infamous homophobic and transphobic views, grew to 190,462 on Friday. On Thursday afternoon, there were about 180,000 signatures.
Article continues below advertisement
The petition's newest supporters are no longer citing the Duggar's intolerance for their opposition to the series, but the shocking news that Josh molested at least five minor females in the family home between 2002 and 2003.
"I don't support child molesters! Enough said!" wrote Norma Ortiz of Pharr, Texas.
"TLC, please do not support child molesters and people who think that molesting is not a crime but a simple mistake," wrote Ivan Ison of the Philippines.
"The Duggars need to be removed from television," said Julia Anders of Rutledge, Tennessee. "They hate gay people and yet their son can molest….and he should be forgiven?"
At least 10 similar petitions have popped up over the past two days on Change.org.
The petitions don't seem to have worked quite yet. Despite new reports that the show has been shelved, insiders tell RadarOnline.com that "no final decision has been made" by TLC about the series' fate.
Article continues below advertisement
A rep for TLC has not responded to RadarOnline.com's request for comment.
As RadarOnline.com reported, Josh apologized last night for his shocking behavior.
"Twelve years ago, as a young teenager, I acted inexcusably for which I am extremely sorry and deeply regret," he told People in a statement.
The soon-to-be father of four also resigned from his high-profile position on the Family Research Council, a conservative lobbying organization once called a "hate group" by the Southern Poverty Law Center for its fight against gay rights.
Watch: Josh Duggar is asked about alleged sex scandal allegations