Exclusive
It's War! 'Big Bully' Rosie O'Donnell To Fight Her Ex For Custody Of Their Adopted Daughter Dakota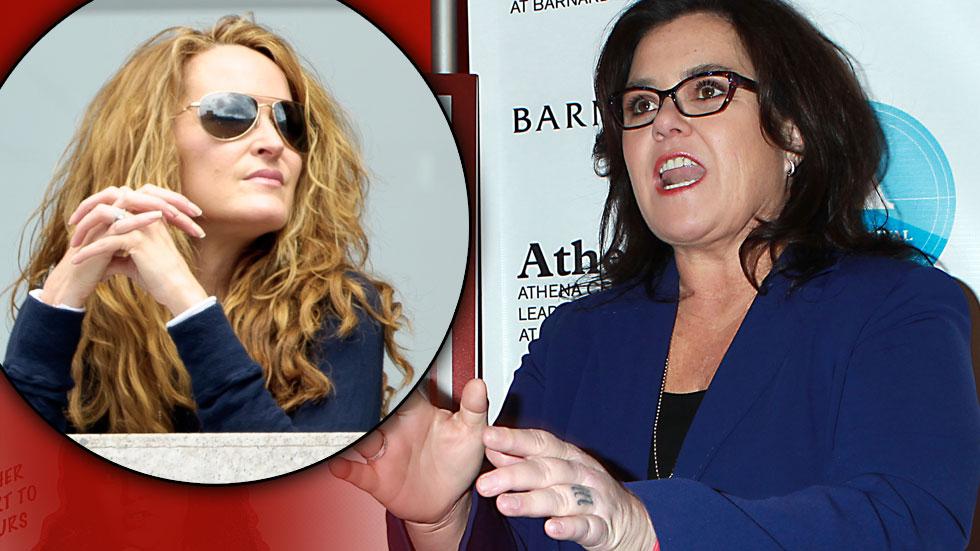 Rosie O'Donnell's already nasty $100 million divorce is about to get even nastier!
RadarOnline.com has exclusively learned lawyers for her estranged wife Michelle Rounds are preparing to go to court this week in New York because Rounds is ready to seek full custody of their adopted 2-year-old daughter Dakota.
A close source said since the couple split up in November, "the last five months have been absolute hell for Michelle — Rosie's a big bully and has gone out of her way to make life miserable for Michelle!"
Article continues below advertisement
"Rosie has done nothing but try to put the screws to Michelle and is coming up with a million reasons not to follow through on what was an agreed prenuptial arrangement made at the time they wed," added the source to RadarOnline.com. "Michelle has seen Rosie's ugly side — she no longer wants anything to do with the star and wants to take Dakota and live their lives in peace."
The source dished that since the split, O'Donnell and Rounds have taken turns caring for the child one week at time, and Rounds has moved into a new home she purchased on her own.
Said the source: "Michelle was a highly successful executive search consultant before she met Rosie and has managed to buy a home with funds she had saved from then. And she wants to re-start her career again — this time as a single mom. But she first must settle the divorce with Rosie and wants Rosie to follow through on the terms of the prenup, which is money she's owed, money that Rosie doesn't want to pay."
Article continues below advertisement
The source continued: "And as far as full custody of their daughter, Michelle deserved it. The fact is Michelle has done everything for their daughter since the adoption. Rosie seldom changed diapers or fed their baby. Michelle embraced motherhood from the start, and she wants their child away from Rosie and all of Rosie's problems."
Previously divorced from TV exec Kelli Carpenter, the high-strung 53-year-old former talk show host met Rounds in 2011, but their relationship faced problems almost from the start.
Rounds was diagnosed with rare desmoid tumors, and the devastating illness forced the pair to postpone their nuptials. They finally married in a private ceremony in June 2012, but O'Donnell suffered a heart attack and underwent coronary surgery just two months later.
The newlyweds adopted infant Dakota on Jan. 5, 2013. O'Donnell has four other children from previous relationships.
In January, Rosie's publicist issued a statement saying the talk show host was leaving the The View and had split from Rounds in November, adding that O'Donnell "is putting her personal health and family first."
O'Donnell filed for divorce a month later, but has been hit with one bombshell disclosure after another since then.
As RadarOnline.com reported, Dakota's birth mother, a Texas woman named Jami Weaver, publicly came forward to blast O'Donnell, saying O'Donnell lied to her to give up her baby and then cruelly cut the woman out of their child's life.
Noted the source: "It's emerged since their split that Rosie is nothing but a bad, bad person. Michelle's not going to give up until she gets what she feels she deserves, including their child. And it's all going to come to a head in front of a judge."