'Rosie O'Donnell Stole My Baby!' Claims Biological Mother Of Talk Show Host's Adopted Daughter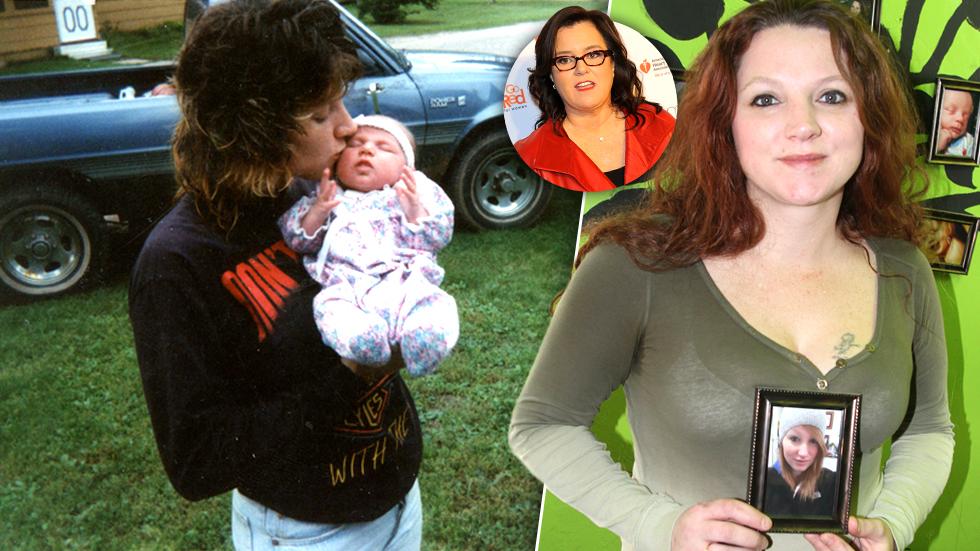 Fresh from the scandals of her controversial exit from television's The View and the sudden demise of her second marriage, Rosie O'Donnell has been plunged into an adoption scandal!
The biological mother of O'Donnell's 17-year-old adopted daughter, Chelsea, has unmasked herself to the world to sensationally claim she was drugged up by her then-husband on heroin and forced to give up their child.
"I believe Rosie O'Donnell knew that I was in no condition to sign away my parental rights to my daughter!" Deanna Micoley, 37, told The National ENQUIRER in a blockbuster exclusive interview. "She did the worst thing one woman can do to another woman — take her child!"
Article continues below advertisement
Micoley was unhappily married and just 20 years old when, in Aug. 1997, she gave birth to a baby girl who she named Kayla. Two months later, her now ex-husband forced her to give up their child to an adoption agency, it's alleged.
"I may not have been the best mother back then. I did drugs and I have a criminal record because of it," Micoley admitted.
"But I surely didn't deserve to have my baby stolen from me!"
Micoley said she never knew 53-year-old O'Donnell had adopted her daughter until last November when Kayla — now known as Chelsea — contacted her biological maternal grandfather.
"Chelsea told him that she was his granddaughter. He called me and broke the news. It was the moment I'd been waiting and praying for the last 17 years – I'd found my precious daughter!"
Since then, Micoley and Chelsea have communicated through Facebook and text messages, during which her daughter revealed to her birth mom that she despises bombastic O'Donnell!
Article continues below advertisement
"Chelsea has told me that she had issues with Rosie," Micoley said. "I believe Rosie has abandoned her. Since about the age of 12, Rosie's basically shipped Chelsea off to different boarding schools."
When Chelsea quizzed her biological mom as to why she'd been placed for adoption, Micoley said: "I told her the truth — that her daddy wasn't a good person and she was basically given up to an adoption agency."
"Rosie O'Donnell stole my baby, but I don't want her money. I just want my daughter back!" added Micoley.
READ THE SHOCKING TEXT MESSAGES
According to Micoley, O'Donnell has also tried to turn her own child against her — something she claimed is supported via a series of explosive text messages.
In one text missive, obtained by The ENQUIRER, O'Donnell wrote to Micoley: "One thing I want to share — Chelsea has often been overlooked in some ways because my fame makes me seem superhuman."
Article continues below advertisement
Said Micoley: "Rosie wants to paint me as a horrible person and says adopting Chelsea saved her from a life of misery."
"Rosie even hired someone to dig up my criminal record and gave it to Chelsea," revealed Micoley. "But bless her heart, Chelsea told me the past was the past, and she loves me!"
O'Donnell is an outspoken advocate of adoption, and adopted son Parker in 1995 as a single mom. She adopted Chelsea in Nov. 1997, and then, with partner Kelli Carpenter, adopted son Blake in Dec. 1999.
Carpenter gave birth to their daughter, Vivienne, through artificial insemination in Nov. 2002. The couple wed in California in 2004, and split in 2007.
O'Donnell adopted her fifth child, 2-year-old daughter Dakota, in 2013 with her second wife, Michelle Rounds. But the pair split after little more than two years of marriage, with the end coinciding with the opinionated star's decision to quit The View — just four months after rejoining the cast.
Article continues below advertisement
O'Donnell's publicist attacked Micoley for speaking out publicly about her biological daughter, and insisted her client's adoption of the 17-year-old was totally above board.
According to Cindi Berger, O'Donnell "legally adopted" Chelsea from the non-profit Children of the World in New Jersey.
"The agency never would have accepted the baby if the birth mother was under the influence," Berger told The National ENQUIRER.
"There are notarized adoption papers signed by the birth mother and father that were accepted by both the adoption agency and the Court."
O'Donnell is "unbearably proud" of Chelsea, Berger added, and "has encouraged and supported Chelsea's desire to communicate with her birth mother. How disappointing that Chelsea's birth mother would go public with this personal story without ever having met Rosie."
Watch the interview below: