Exclusive
Inside Prince Jackson's 'Downward Spiral' -- Family 'Considers Intervention'?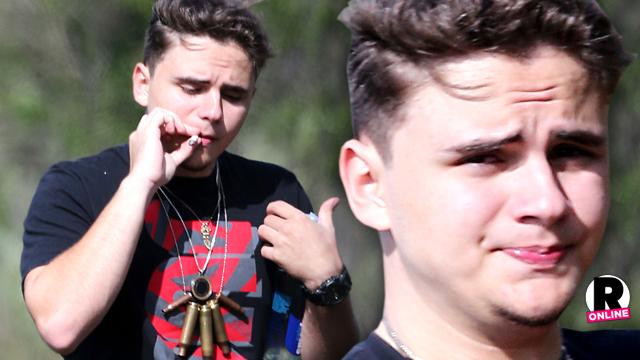 After Prince Jackson was photographed smoking a very mysterious looking rolled cigarette, a source tells RadarOnline.com that his family is "beyond worried" and thinking about taking action to turn his life around!
"He's been acting out to the point where his family is now worried and they want to do anything to prevent another tragedy," the source says of the oldest son of late singer Michael Jackson, who recently turned 18-years-old and inherited money from his late father's estate.
Article continues below advertisement
"Everyone is hoping that the family considers an intervention in Prince's life soon," the insider says.
However, Prince, who currently lives in Calabasas, Calif. with his 84-year-old grandmother, Katherine Jackson, as well as his sister, Paris, 16, and younger brother, Blanket, 13, seems to be enjoying his freedom in L.A. before he heads to college upon graduation this Spring.
In late January, as RadarOnline.com reported, Prince was spotted out partying late-night at the notorious Chateau Marmont on the Sunset Strip in West Hollywood, Calif., sipping a colorful beverage that was topped with an umbrella.
Since then, he is also said to be hanging out with the wrong crowd, including befriending notorious Hollywood bad-boy, Justin Bieber.
"He barely spends any time at home and when he is there, he is constantly lashing out at his grandparents," the insider tells RadarOnline.com.
To make matters worse, since his sister Paris returned from the treatment center in Utah, where she spent 18-months recovering from a mental health crisis, the once-tight siblings are reportedly at odds.
" because she just thinks that Prince is acting like a spoiled brat," the source said. ​
Do you think that Prince Jackson is headed down the wrong path? Tell us your thoughts in the comments below.