Exclusive
Saving The Kardashians! Kourtney Plays Peacemaker For Feuding Kris & Bruce In Secret Meeting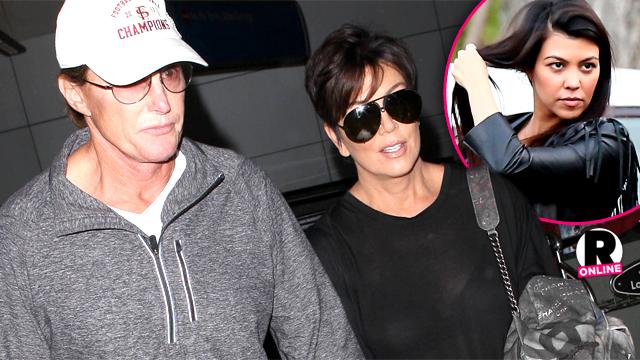 Kourtney Kardashian and her mother, Kris Jenner, made a surprise visit to the Malibu home of Kris' estranged ex-husband Bruce Jenner last Wednesday. Though the oldest Kardashian is rarely seen with her mom when they aren't filming, a source very close to the Keeping up with the Kardashians family tells RadarOnline.com exclusively that Kourtney was "desperately trying to save her family."
"Kourtney has been playing mediator between Bruce and Kris because she is the only one that Bruce will listen to out of the three Kardashian girls," says the source.
Article continues below advertisement
According to the insider, the 59-year-old momager had some incredibly important topics to discuss with Bruce before his upcoming interview with Diane Sawyer, which is airing on April 24.
"Kris asked Kourtney for her help because really wanted to talk to Bruce face to face."
Kris, who recently reunited with her 34-year-old on-again, off-again boytoy, Corey Gamble, "wanted to let Bruce know that she is now fully supportive of his transition to and she also wants to be involved in the process."
"Kris thinks that she can help Bruce become the classy woman that he is looking to become because she sees herself as the epitome of class," the source continues.
"Also, she wanted to discuss the family and the future of their empire with him. Bruce and Kris knowingly put this whole entire thing into place because that is what they wanted when they were together."
"Now that that the family is clearly being torn apart, Kris just wants to work with him and try to put the pieces back together."
As far as the outcome of their visit, the Kardashian family friend says, "It went well, but he is obviously still very hesitant to let her be involved.
Do you think that Bruce Jenner should allow his ex-wife to be involved in his transition to become a woman? Tell us your thoughts in the comments below.