Exclusive
Sex Change Secrets! Kris Jenner 'Grills' Bruce About What To Expect From Diane Sawyer Interview In Awkward Visit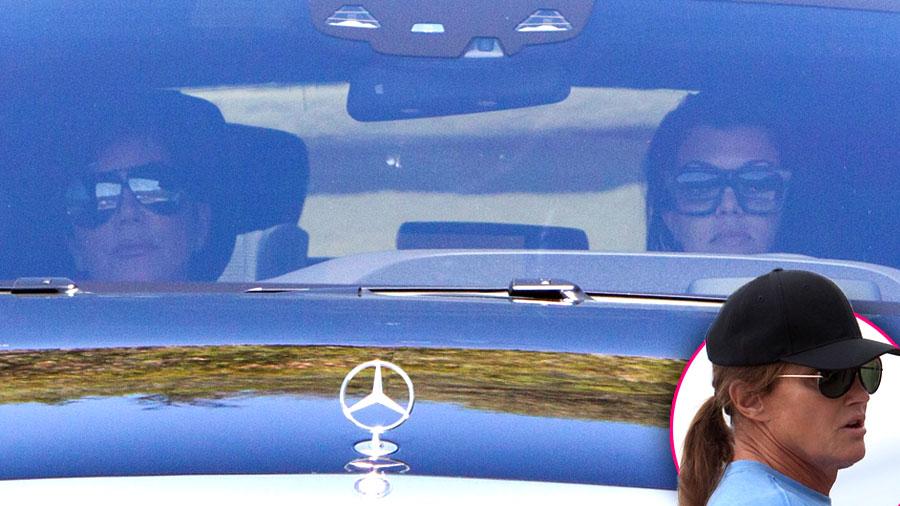 Kris Jenner and her ex-husband Bruce have been estranged ever since he told his family he was transitioning to a woman. But Thursday she decided the time had come to visit him at his Malibu retreat to discuss the recent developments. Only RadarOnline.com has the details of their awkward sit-down, including why she brought her daughter, Kourtney, for moral support.
"The timing of the visit was pure public relations stunt on Kris' part," an insider told Radar. "Knowing Bruce's interview with Diane Sawyer would be airing next week, Kris needed to appear empathetic towards him and his journey to become a woman. Even though Kris still thinks Bruce is doing this to embarrass her, it was time for cameras to get her arriving at Bruce's Malibu house."
Article continues below advertisement
"Since she knew there would be tension, Kris decided to bring Kourtney, and her kids, Mason and Penelope," the source said. "Kris grilled Bruce about what was revealed during the interview, and he didn't give her a lot to go on."
Meanwhile, the source said, "Kourtney didn't interact with Bruce a lot during the visit, and looked after the kids. The Malibu mansion isn't kid friendly, and her main concern was just keeping them from getting hurt, or breaking something."
The 65-year-old Olympic legend-turned-reality star sat down with Sawyer for the chat in February after Bruce made the decision to go through with the sex change "thoughtfully over the past year," a source told Radar.
"After having his Adam's apple removed, and beginning to take hormones, Bruce knew what he wanted to do," the source said. "He has been in counseling as required by the surgeon, and his doctor believes Bruce is psychologically prepared to become a woman."