'Hurt' & 'Confused': Kim Richards Admits She Hasn't Spoken To Kyle In Months Amid Bitter Feud — Even After Her Arrest!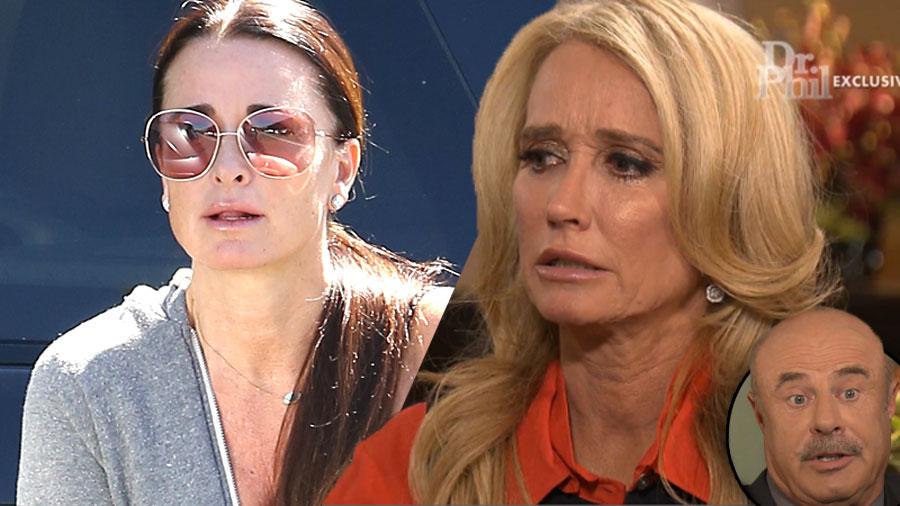 Kim Richards has hit rock bottom yet again after her public arrest for intoxication and subsequent rehab stay. But her deepest heartache comes from her ongoing feud with sister Kyle, as RadarOnline.com has reported. And in her new interview with Dr. Phil, which aired Tuesday afternoon, Kim admitted just how bad it's gotten.
When the Real Housewives of Beverly Hills stars filmed the reunion episode earlier this year, Kim said, "I hadn't even seen my sister in five months."
Article continues below advertisement
"She actually texted me after my arrest for the first time in five months," Kim said. "She asked me if I was ok. I haven't spoken to her …"
Kyle's daughter, Alexia, was bitten by Kim's pit bull Kingsley in November, sparking the sister's latest cold war. But Kim admitted to Dr. Phil that the sisters have wider issues.
"It's been a bad year for us," she admitted, revealing that her sister's failure to defend her sobriety to the other housewives cut her deep.
"It hurts me," she said. "When I took the pain pill she took me to lunch to say Lisa Rinna had been talking about me … The way my sister told me, I was hurt, I was confused."
She insisted, "I don't want to fight her or fight with her," but said, "There's a few things that still linger for Kyle and I."
For more revelations from the Dr. Phil interview, stay tuned to Radar.