Exclusive
That Bites! 'RHOBH' Star Kim Richards' Dog Trainer Threatens Lawsuit After Attacks By 'Dangerous' Pit Bull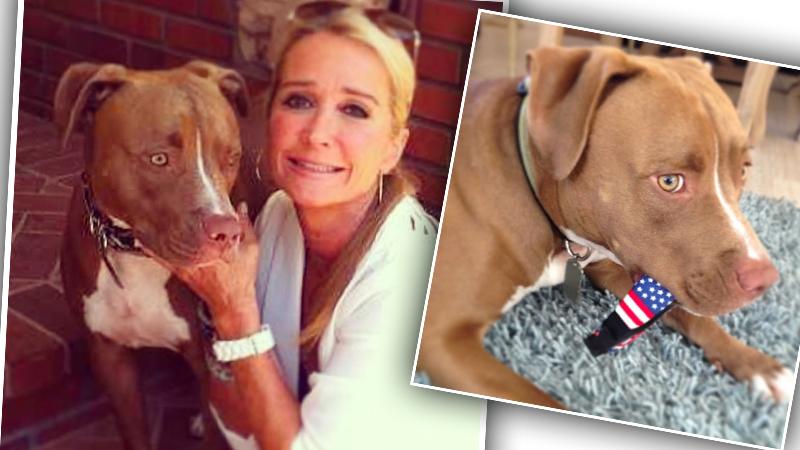 Real Housewives of Beverly Hills star Kim Richards is being threatened with yet another lawsuit thanks to her pit bull Kingsley. RadarOnline.com spoke exclusively to a friend of the dog's trainer, Kyle Schwab, who reveals that "Kyle is getting ready to take Kim to court over the training session."
The pit bull attacked Richards' sister Kyle's 18-year-old daughter, Alexia Umansky back in November. Not long after, the reality star was slapped with a lawsuit by an 80-year-old family friend, Kay Rozario, who was also attacked by the dog while staying at Richards' house this past summer.
Article continues below advertisement
When news of those incidents broke, "people from all over the country started to ask Kyle to train the dog," a friend of Schwab's told RadarOnline.com. "When he started interactions with Kim via text messages, he was only supposed to go and train Kingsley for one hour."
Instead, the source says, Schwab, of Smashface Rescue in Van Nuys, Calif., trained the dog at Richards' home for four hours "and it did not go well."
But according to the source, what allegedly happened after was worse. Richards was invoiced $530 for Schwab's services, but "When it came time to pay him, Kim had a million reasons and excuses as to why she shouldn't have to pay, including telling Kyle that it was supposed to be an interview, and not a formal training session," the source claims.
Now, after a month of dealing with Richards' excuses, the friend tells RadarOnline.com that "Kyle's only option now is to take her to small claims court over this. She has cut off all communication with him and refuses to pay him for training Kingsley."
Article continues below advertisement
"It's unfortunate, because Kyle did have some success with training the dog," says the friend. "But that dog is one of the most dangerous pit bulls Kyle has ever worked with and during the session, Kingsley tried to attack him."
"Kyle is probably this dog's last chance. Many people refer to him as the 'pit bull whisperer' because of his success in training that breed. But no one knows where Kingsley is now. He could be back living with her again, because she has gone radio silent on Kyle or on any of the trainers we know."
What do you think Kim should do with her dog? Let us know in the comments below.