It's Not Our Fault! Bravo Producers Insist They Have Nothing To Do With Kim Richards' Pit Bull Attack On Woman, 80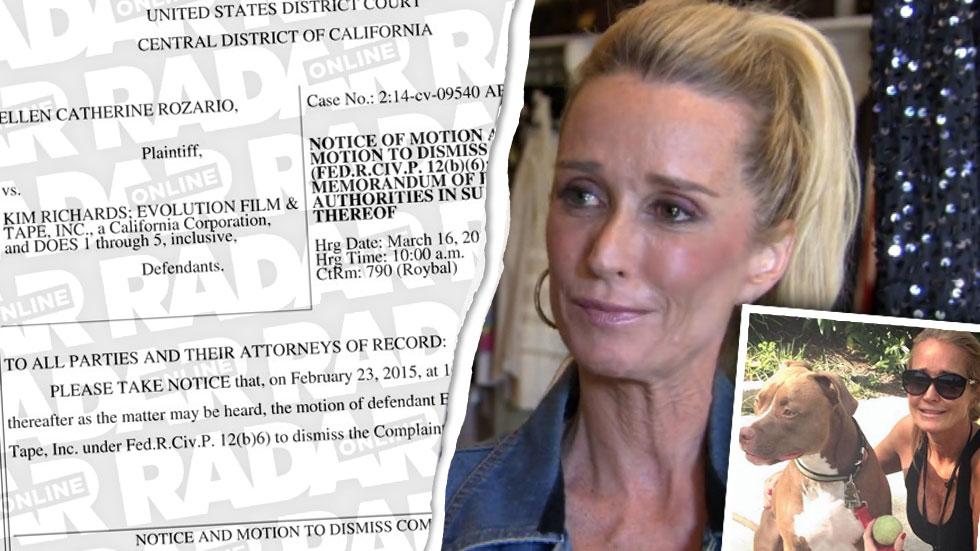 Real Housewives of Beverly Hills producers said in court docs it's not their fault Kim Richards' friend was attacked by a pit bull, and that the case should be tossed.
In a January 19 petition to a California court, the producers (under the umbrella name Evolution Film & Tape, Inc.) claimed they had no involvement in the incident in which Richards' friend Kay Rozario, 80, was attacked by the dog March 20, 2014.
Article continues below advertisement
As RadarOnline.com previously reported, Rozario, in her suit against the company, claimed producers had fraudulently concealed the incident for the cast member; and that they "knew that Richards' dog was 'vicious' and had a duty to warn her … of the dog's" fiery temper.
Producers added that Rozario didn't imply the attack took place during the show's filming, and that they've never had any sort of business arrangement with her (in which it would be a logical conclusion to think they should have told her something). The producers shot back saying they bore no responsibility over Richards' handling of her dog, and that it's a stretch in Rozario's suit to imply that they should have.
The producers, attempting to point out Rozario's twisted logic in naming them, said that by her rationale, any TV producer "would owe a duty to every viewer of the show to disclose all known facts about anything depicted on the show, and would be subject to suit by any such viewer."
They wrapped up in asking the court that the case against them be dismissed "with prejudice."