No Pregnant Pause For The Duggars: Jessa & Ben Seewald Complain About Morning Sickness, Gush About Expecting On '19 Kids'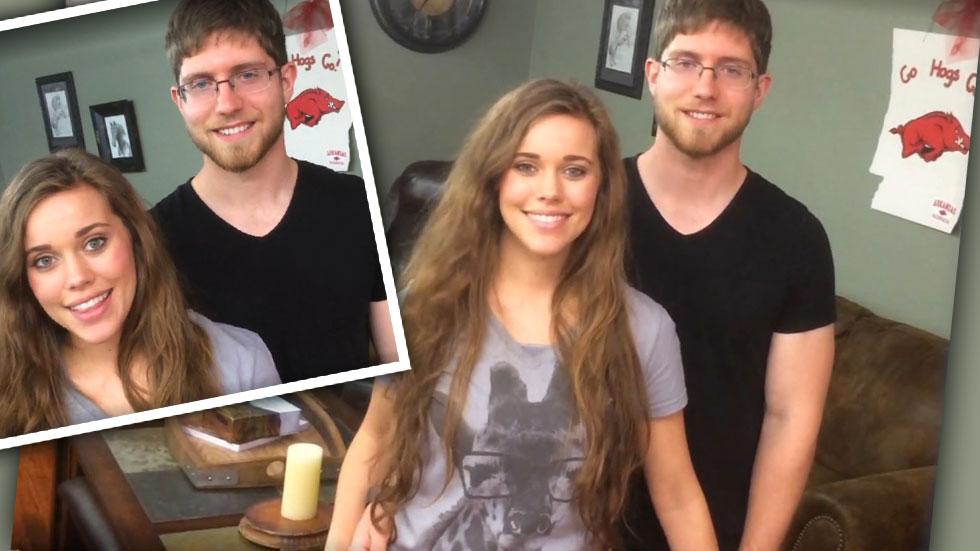 Jessa Duggar and Ben Seewald's 19 Kids and Counting "European Honeymoon" special on TLC Tuesday night featured the couple's pregnancy announcement video.
After Jessa told People earlier in the day, "We're expecting!" and gave a due date of Nov. 1 (which is also their first wedding anniversary), viewers saw a special video message from the couple.
"We're so excited to announce that we're expecting a baby," Jessa told the cameras with Seewald standing behind her.
Article continues below advertisement
Stating the obvious, Seewald said, "It could be a boy or a girl."
"You gotta be kidding," Jessa said.
"Could be both," he said.
Jessa said, "We're in week 12 right now and things are going great. Looking forward to being in the second trimester and being over all the morning sickness and all that but it's not been too difficult. He's a great husband. He's going to be a great dad."
On Tuesday night's episode, viewers went back in time to see how Jessa and her husband honeymooned in Europe a week after their wedding.
"It's a great way to start out our marriage, just the two of us," Jessa said during the episode.
But as fans already knew, it wouldn't be just the two of them for long!
Before departing, Seewald and Jessa admitted they didn't have a washer or dryer -- or even functioning toilets or sinks -- because of the mold problem in the house they got from her parents Jim Bob and Michelle Duggar.
So they stayed in a hotel until their honeymoon.
Article continues below advertisement
Jim Bob told the cameras the mold in the house, where son Josh and his wife Anna had once lived, stemmed from a leak in the bathtub. It got worse when the home stood vacant.
While the newlyweds honeymooned, the rest of the family vowed to fix up their house.
The couple was still in bliss, although Jessa said she'd learned Seewald had a bad habit of splattering toothpaste all over the bathroom!
Their first honeymoon stop was Paris, very far from their Arkansas home, and her sister Jill Duggar's husband Derick Dillard said, "Maybe they wanted to get as far away from chaperones as possible."
The couple walked down the Champs-Elysées and had dinner at a French restaurant were Seewald bravely dived into escargot (snails).
They climbed to the top of the Eiffel Tower and enjoyed the view, but Seewald was afraid of heights.
In another highlight of the trip, they visited "Love Lock" Bridge in Paris, where Seewald attached a big lock he'd engraved himself with their names on it.
After the romantic moment, the couple -- who weren't allowed to kiss during courtship -- shared a long one.
Article continues below advertisement
Later, they went to Rome for a cooking lesson, where Jessa admitted, "I burn stuff a lot," but said Ben was a good cook.
Seewald, 19, who was about to graduate from community college, revealed to viewers that he was taking online classes while on honeymoon, mostly studying after Jessa, 22, went to sleep. (He plans to go into the ministry.)
They rounded off the honeymoon with a gondola ride and a trip to a vintage clothing store in Venice, Italy.
Back in Arkansas, cameras showed Jim Bob and the kids descending on the moldy house to clean, paint, and resurface the fireplace.
Jim Bob, who is in real estate, said, "This is going to be a starter home many of our kids will live in the first year of marriage."
Later, the Duggar women went shopping for things for Seewald and Jessa's house, with Joy Anna noting that her sister loved to decorate and, "I'm kind of scared she's not going to like what we got her."
Later, Duggar son Josh and his wife Anna announced their fourth pregnancy to the whole family.
Jill noted of their big clan, "You're not far from a box of pregnancy tests."
After learning Josh and Anna's news, Jim Bob joked, "I'm pregnant!"
Soon, Seewald and Jessa came back from their honeymoon and toured their renovated house.
"Is this the same place?" Jessa asked of the formerly dilapidated home.
"No mold," she said with relief when Jim Bob showed them the bathroom.