Ex-Bodyguard To Dish Drug Secrets & Other Scandals In New Tell-All Book — 'I Have Encounters With Over 135 Celebs'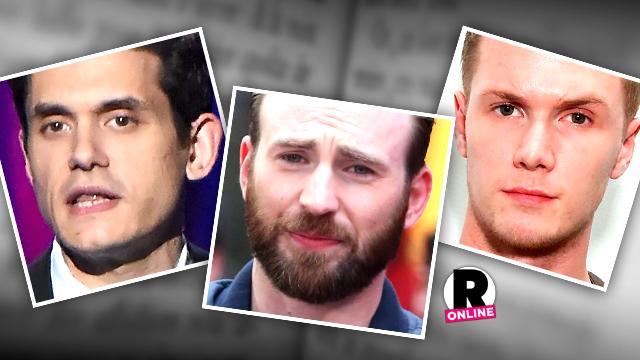 Leonard Taylor, the former bouncer-bodyguard to some of Hollywood's biggest names who's already dished on the drugs he allegedly procured for Chris Evans and John Mayer, is planning on outing even more A-listers!
And Tinseltown better beware, because few are spared, he tells RadarOnline.com in a bombshell exclusive interview.
"There is a tell-all book," Leonard reveals. "It's done, but has to be rewritten. It's chicken scratch. I've been keeping notes as they happen. The only reason it's not done is because I'm not done," Taylor continued.
Article continues below advertisement
"There has never been a book where a black man from the hood is exposing dirt on white celebrities."
Taylor recently put himself in the headlines after filing a lawsuit in New York City citing emotional abuse against nightclub impresario Barry Mullineaux, claiming he was forced to "buy cocaine for celebrities" such as Mayer and Evans at his boss's orders.
He alleges that between the years of 2006 and 2010 "Mullineaux would get the money to buy the drugs from the club's cash register," and he "would have to buy drugs for such celebrities as Barron Hilton, Chris Evans, Ms. America Tara Conner."
And there are many more to name-drop, Taylor insists, after his 21 years in the club scene.
"I have encounters with over 135 celebs—basketball players, athletes, singers," he reveals to Radar.
In fact, Taylor confesses he tried calling the star of Captain America to tell him about his purported book, but says his calls went ignored.
"I left a message and he has not returned my calls. I was just going to let him know what's going to happen and that I would not say anything about him," Taylor alleges.
Article continues below advertisement
"He didn't want to call me back, so f**k him."
But Taylor still has a soft spot for at least a few movie stars.
"I don't want to say anything about Denzel Washington and Bruce Willis," he says.
"I have a loyalty to Bruce Willis because he helped me when I was on the streets homeless," he adds of his time working at the New York City hotspot Butter. "He gave me money. I would never tell how much. He helped me get an apartment and I moved on from there."
In his $1 million lawsuit, Taylor said that Mullineaux cost him work opportunities by defaming him to "celebrity friends, other club owners and security companies" claiming he was involved with "drug use and other criminal behavior."
Taylor, who formerly worked for Mark Wahlberg and Uma Thurman, went on to allege that Mullineaux was linked with organized crime and financial scams, which Mullineaux has adamantly denied, telling the New York Post, "It's all lies" and "nothing he says has any truth or value to it."
Article continues below advertisement
"Every time Taylor shows up he says, give me $10, give me $20, give a me a job or I'm doing this, for three years stalking me and threatening me," noted Mullineaux.
Still, Taylor plans to tell his side of the story to a wider audience, but he reveals he won't continue with his court case.
"I'm not following through with the lawsuit," he tells Radar. "It's not about money, it's never been about money.
"This is about outing my former boss. He fired me for drug use, but you can't do that if you are giving me money to get drugs for celebrities."
Bodyguards Gone Wild! Drugs, Murder, Assault & Other Crimes Committed By Hollywood's Hired Muscle
Taylor says he has a bigger message in the book that details tales from a "black man's perspective" about alleged racism.
"I had to tell Lebron James he couldn't come in without buying a bottle," Taylor said of an alleged incident at Stereo in 2008.
Article continues below advertisement
"They wouldn't let Michael Strahan in," he says of an incident that he claims occurred in 2006.
"It's never been exposed the racism behind the scenes in the club, organized crime and corrupted cops on the take."
But Taylor should expect some fallout, as Mayer's camp has already called the drug allegations "a flat-out lie" and "completely untrue."
"I'm certain Mr. Mayer's attorneys will become involved," the singer's rep said.
Meanwhile, reported the New York Post, "Conner's site says she had a 'very public struggle with addiction.' Reps for Conner, Evans and Hilton didn't respond" to requests for comment.