'Teen Mom' Reunion! Catelynn & Tyler End Feud With Daughter Carly's Adoptive Parents In Emotional Meeting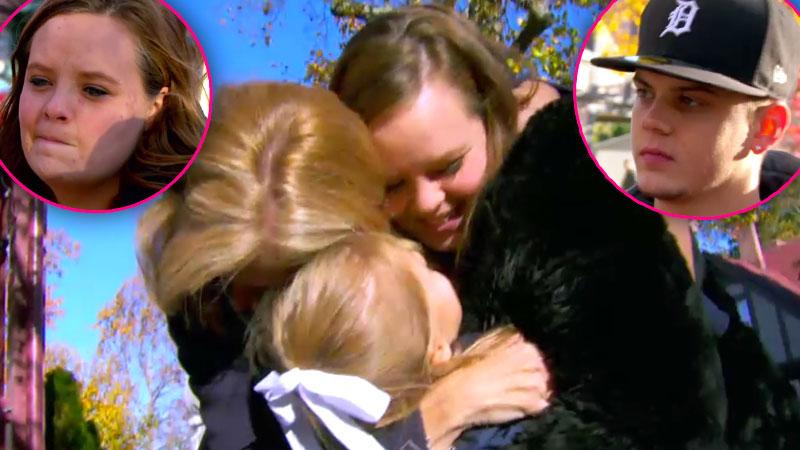 After tension-fueled fights, Catelynn Lowell and fiancé Tyler Baltierra have buried the hatchet with their daughter Carly's adoptive parents, Brandon and Teresa Davis.
On Monday night's episode of Teen Mom OG, the clashing couples came face to face in a mediated gathering near the Davis family's North Carolina home.
Baltierra, who recently exploded over Brandon and Teresa's orders not to post photos of Carly on social media, and Lowell had their fears quelled when the conservative yet loving pair reassure them that they won't cut off their contact with 5-year-old Carly.
Article continues below advertisement
"It would take a lot for that to happen, so let's be clear and open about that," Brandon assured them.
After the couple revealed insecurities of their own, Baltierra's cold exterior melted.
"There's nothing we could say to you to say how much we appreciate you allowing us in her life," he told them.
At the end of the meeting, the beloved MTV reality stars were reunited with their daughter after more than a year apart.
Brandon, Teresa and Carly even showered Lowell with presents for her impending arrival, adorable daughter Novalee Reign, who was born in January.
The gifts included Carly's hand-me-downs, which Lowell expressed her appreciation for later on Twitter.
Before parting after their weekend together down south, Teresa told Lowell she would love the star's second baby as well, leaving her thrilled.
All might seem well in Carly-land, but even Lowell acknowledges there could be more feuds in the future.
"We're trying to be open and honest with each other," she told OkMagazine.com in a recent video interview. "But adoption is a work in progress all the time. It's going to be smooth for a while, then you're going to hit a bump and try to work through that."