Catelynn Lowell & Tyler Baltierra Clash With Daughter Carly's Adoptive Parents In Shocking 'Teen Mom OG' Preview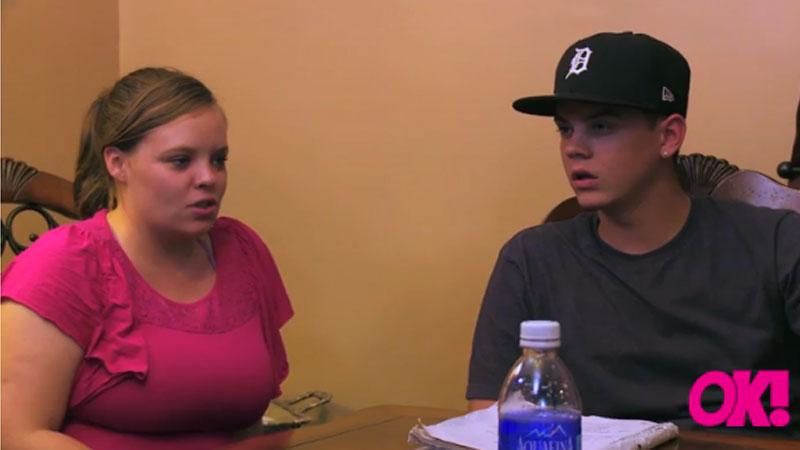 More than five years ago, Catelynn Lowell and Tyler Baltierra placed their daughter, Carly, with her adoptive parents, Brandon and Teresa Davis, in a friendly open arrangement. But according to OKMagazine.com's exclusive clip from tonight's episode of Teen Mom OG, there are still strict rules the MTV reality stars need to follow. And sometimes, they break them!
In the preview video, Baltierra, 23, tells his mother Kim that he "got in trouble" with Carly's parents for posting photos of their daughter on social media.
Article continues below advertisement
The couple was "very upset, very," he says, adding that he feels "inside" that he has the "right" to proudly post photos of his daughter.
Lowell, however, is more understanding of the Davis family's rules.
"I don't care if the world can't see her. I get to, my family gets to, that's all that matters," reasons the 23-year-old mom of daughter Novalee, 3 months. "Why jeopardize that over something small?"
She then argues that they actually don't have any right to share Carly's photo with their millions of fans.
"We signed everything away," she tells her fiancée. "We don't have any rights at all!"
"They want Carly to be her own person," she explains. "As long as I have a relationship with her, I don't give a sh*t about anything else!"
Do you think Brandon and Theresa should allow Catelynn and Tyler to publicly share photos and videos of Carly? Sound off in the comments and watch OKMagazine.com's exclusive video below.