Exclusive
'Humiliating!' Kris Jenner's Sister Says 'KUWTK' Star 'Embarrased' By His Transition — And It's 'Hard On' Kylie & Kendall Too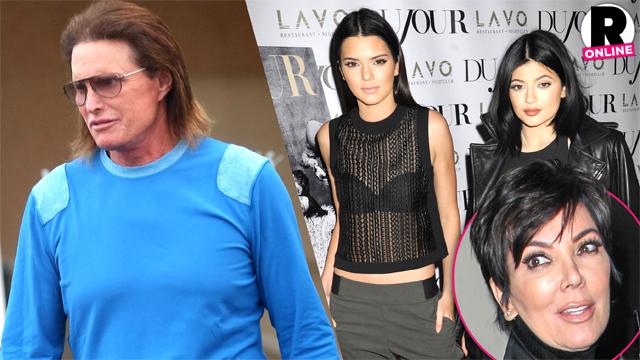 Now that Bruce Jenner's on-camera tell-all about his transition from a man to a woman has officially gotten an air date, his ex-wife will have to brace herself for what's sure to be a confession she has never wanted to hear. According to Kris' sister, Karen Houghton, Bruce's big changes have been deeply "humiliating" for the self-centered star — and it's been "hard on" Kendall and Kylie too!
"As with anyone, it has embarrassed my sister. It's been humiliating for her," Kris Jenner's sister Karen Houghton told Radar.
Article continues below advertisement
Diane Sawyer's upcoming two-hour sit-down with the Olympian about his new life as a female set for April 24 has also had an effect on his children, especially his daughters with Kris -- Kendall, 18, and Kylie, 17.
"I told Kendall and Kylie, 'I love your dad, I will always love him. I don't care what he is or does,'" Karen added. "I know this is hard on them."
Of course, the one under the most pressure is the 65-year-old who captured the world's heart as a gold medal winning decathlete and then as the down-to-earth reality dad on Keeping Up With The Kardashians. And that's what Bruce's former sister-in-law will remember most.
"I told him 'I love you no matter what—if you're blue, white, transgender, gay. I don't judge people," said Karen.
"I told him 'It doesn't matter. It's what's in your heart.' I just said, 'It doesn't matter to me. You helped raise my daughter.'
"He helped my daughter build toys on Christmas. I love him as a man or a woman," she continued of Bruce, who has recently undergone a boob job, as exclusively reported by Radar.
Article continues below advertisement
"I don't really care. There is nothing I can say that's bad about him," Houghton continued. "All he did was make my life better for me and my kids.
"Everyone is rooting for him."
Houghton says she never knew about Bruce's secret other life during his 23-year marriage to Kris.
"I never had any idea," she said. "He was always nice to me. I think he wanted to keep it private."
So, she confesses, she'll be glued to her TV screen come April 24 just like millions of other viewers.
"Oh, are you kidding! Yes! I'd like to see it," she said. "I was shocked at the age though… I couldn't do something like that.
"I really admire him for being brave and doing what he wanted to do. And now he's doing it."
Watch: Kris Jenner cuts Bruce Jenner out of her will