Exclusive
Apple Watch Workers In Danger! Sweatshop Employees Exposed To Hazardous Chemicals— But Not Warned About The Risks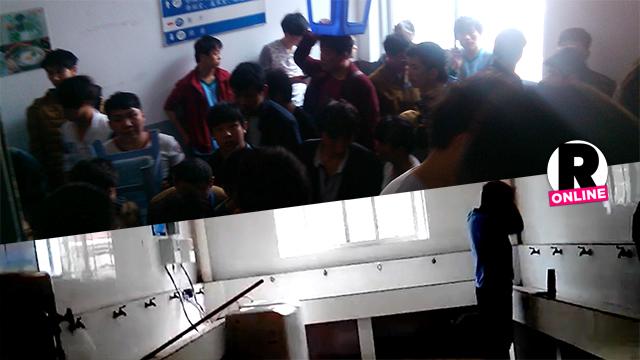 As RadarOnline.com has exclusively reported, Apple Watch factory workers slave away 12 to 16 hours a day, six days a week for a base rate of just $298 a month— more than $50 dollars less than the price of the cheapest product they create.
But RadarOnline.com can also reveal that the long-suffering employees of Jiangsu Province, China factory Dafu Computer Changshu, where the Apple Watch is produced, assembled and tested, are also exposed to dangerous chemicals that put their lives at risk.
Article continues below advertisement
China Labor Watch, a respected workers' rights organization based in New York, sent an undercover reporter into the shoddy factory, and the discoveries were shocking.
Workers are regularly in contact with industrial alcohol, ethoxy propanol, and n-heptane, which are used to wipe down products, the covert reporter claims.
According to The National Institute for Occupational Safety and Health, n-heptane is immediately dangerous to life or health.
After just minutes of exposure, the colorless liquid can cause dizziness, stupor, incoordination, nausea and even unconsciousness.
While the NIOSH recommends wearing a "self-contained breathing apparatus" if a person comes into contact with the hazardous chemical, the investigator says that workers are simply given a thin mask and told to wear it at all times, especially when auditors and clients observe production.
Article continues below advertisement
The most shocking aspect is that the workers are not informed about the chemical exposure or any of the risks involved.
There is a short safety quiz given during training, the reporter claims, but supervisors give answer sheets and expect employees to simply copy the correct responses.
Still, "workers are not told about the potential toxicity of these substances by anyone," the reporter says.
And in case of emergency, the workers are doomed: Fire escape routes are blocked by piles of materials, and other safety exits and windows are locked with no hammers to break the glass.
The fire extinguishers in the workshops do not appear to have been inspected.
Life in Dafu's dormitories doesn't seem to be any safer. The reporter claims that the stairwells are often wet and slippery, regularly causing trips and falls.
As RadarOnline.com previously reported, eight workers share one room in the dorms, stacked like sardines in bunk beds. Nearly 320 employees share the one bathroom per floor.
Perhaps in part due to the crowded quarters, at least 100 workers have contracted measles and rubella in recent months.
Watch the shocking video below to see inside Dafu's dark, filthy dormitories: