Prison Phone Call: Incarcerated Apollo Nida Vents About Divorce From Phaedra Parks: 'She Told Me Through E-Mail'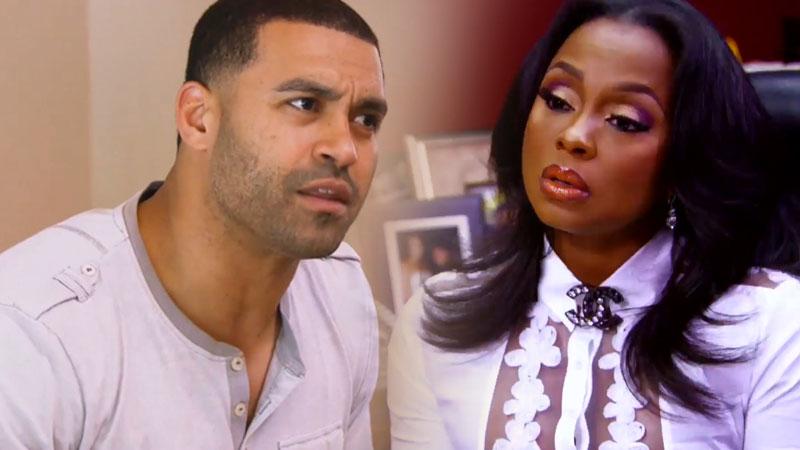 Phaedra Parks' disgraced husband Apollo Nida's angry prison phone call provided most of the drama on the Real Housewives of Atlanta Sunday.
On the season seven finale, Nida -- who is serving an eight-year sentence in Kentucky for bank fraud and identity theft -- put in a call to his pal Peter Thomas, and he and his wife Cynthia Bailey listened to his complaints on speaker phone.
After six weeks in prison, Nida told Thomas he's "holding up," but groused about his young sons with Parks, Ayden and Dylan.
Article continues below advertisement
"I haven't seen my children," he said.
Nida sighed that his brother had visited him four times "and Phaedra won't let him get the kids to bring them," adding, "I need to see my children."
Thomas told him to be strong because they would need their daddy.
Nida said he was going to take prison classes to try to get himself closer to Atlanta. Then Thomas asked him point blank, "Do you know Phaedra filed for divorce?"
Nida replied, "She definitely told me through e-mail and I've gotten word from everybody else, so f*ck it! What can I do?"
"Maybe you'll talk to her," Nida pleaded to Thomas -- and then his call was abruptly cut off.
Watch the video on RadarOnline.com
Meanwhile, Parks told her side of the story to the cameras, arguing that Kentucky was far away from Atlanta and it was hard for kids to visit because of prison rules.
Article continues below advertisement
"I had to call the warden to see when an infant would even be welcomed into a prison, so it's not like, "Oh, I can just go,'" she explained.
"They don't even have a nursery for a 1-year-old ... if I have to change his diaper, I would have to leave … there's one entry."
Also on the season finale, Kandi Burruss' Mama Joyce threw a party at the house her daughter had given her.
In a shocker, Joyce not only thanked Burruss for the home, she apologized to her daughter's husband Todd Tucker.
MORE ON:
Real Housewives of Atlanta
Mama Joyce, who had accused Tucker's mother Sharon Wells of being a prostitute (a charge that Wells, who later died, staunchly denied) apologized for the accusation.
Joyce said she had merely repeated what someone else had told her, but it was wrong nonetheless.
Burruss was happy, but Tucker told the cameras Mama's apology wasn't sincere and "we have a lot of work to do."
Also, Burruss' daughter Riley wasn't happy when the singer announced Tucker's TV work was taking him to Los Angeles and she planned to go with him.
Article continues below advertisement
The show revealed the couple had quit counseling and were instead getting fertility treatments.
Burruss and Tucker's three-part spinoff, Kandi's Ski Trip, will begin airing May 17 after the RHOA reunion.
Meanwhile, NeNe Leakes made her Broadway debut as the evil stepmother in Cinderella -- with none of the other housewives there to see it.
After her curtain call, proud former stripper Leakes told the cameras, "I'm the real Cinderella."
In addition, fans saw Kenya Moore screening her TV pilot Life Twirls On for the other housewives, dressed in a wedding gown like her character -- who runs after her cheating groom with a knife.
But the show was apparently not picked up, and Moore instead found love with James Freeman on The Millionaire Matchmaker.
Now, with season seven a wrap, the explosive reunion show that RadarOnline.com has previewed will start airing next Sunday on Bravo.