'The Last Few Weeks Have Been Hell': 'RHONJ' Star & Cancer Survivor Amber Marchese Undergoing Surgery IMMEDIATELY To Remove Lump In Breast, Have It Examined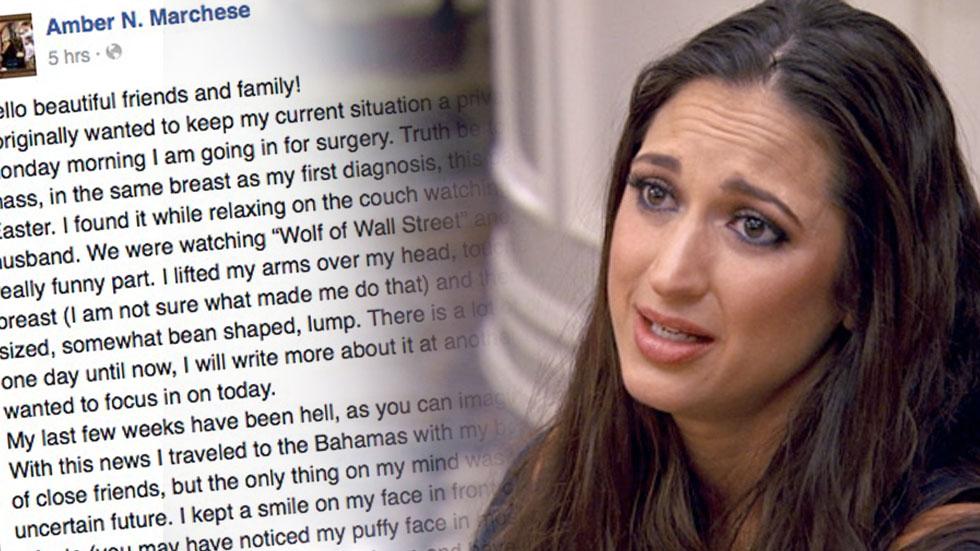 Real Housewives Of New Jersey star Amber Marchese says she's undergoing a surgery Monday to eliminate a growth that could be cancerous.
The Bravo star, who is a cancer survivor, said on her Facebook page that she discovered the growth (in the same breast that she previously was diagnosed with cancer in) during movie night with her husband Jim on April 3.
"I lifted my arms over my head, touched the side of my breast (I am not sure what made me do that) and there it was," the reality star wrote. "A small pea-sized, somewhat bean-shaped, lump."
Article continues below advertisement
Marchese said her "last few weeks have been hell," -- "in complete anxiety, fear, and stress" -- and that "the only thing on her mind has been that lump and her uncertain future."
The outspoken Garden State beauty said that following the procedure, the lump will be "biopsied" to check for cancer.
Marchese admitted she's been wrestling with her emotions after discovering the growth, as her initial discovery swept her "right back into the agony one faces when they could possibly face death."
She said that she tried to keep her mind occupied focusing on her family and prayer, and on Sunday, she "felt a sense of overwhelming peace" while in church.
"My faith in God and my physical presence in Church gave me a sense of peacefulness," she wrote. "It is all going to be fine, regardless what the outcome. I am physically strong and through my spiritual faith, I am mentally strong.
"I have turned to God and put my trust into Him instead of shunning Him away."
She said that the rationale behind her Facebook post was to tell her fans and followers that her spirituality lifted her though the rush of "confusion, sadness, and anger" she experienced after finding the growth.
"I am in the best physical condition of my life, lifting weights and I sometimes feel like supermom, but today I stand before you all, frightened," she wrote. "I am not ashamed or afraid to admit it, but what I can say to you all is I have peace."