Exclusive
'RHOC' Star Vicki Gunvalson Struggling To Cope With Mom's Passing — Boyfriend Brooks Ayers Reveals Her Secret 'Pain'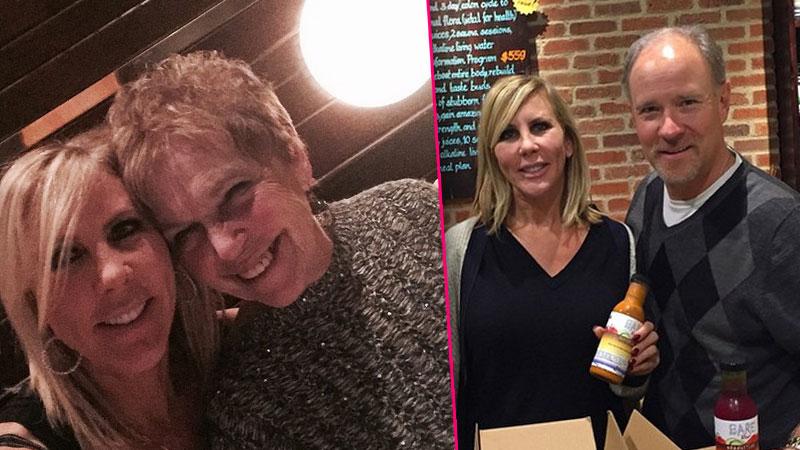 Vicki Gunvalson has had one incredibly difficult year. After learning that boyfriend Brooks Ayers admitted he cheated on her in September 2014, she was then rocked by his cancer diagnosis soon after. And just as the couple seemed to find solid ground, her mother suddenly passed away on February 4. In an exclusive interview with Radar, Ayers opened up about how the Real Housewives of Orange County star has been struggling to deal with the loss — and why she might not ever get over it.
Article continues below advertisement
"I am who I am because of her," Gunvalson wrote on Instagram of her mom, Joanne Steinmetz, upon new of her passing. And Ayers says her death has been a serious blow.
"Both my parents are still living, so I can't even begin to understand the pain she's gone through," he told Radar. "It's been very tough. I'm just learning to be a good listener and to be there and support Vicki."
"She certainly has her waves of emotion as I would suspect anybody would," Ayers continued. "And I just want to reiterate to her that I'm here for her. I don't know when it's gonna pass or if she'll ever get over it. I don't know that anybody would ever truly get over the passing of a parent."
"I'm not looking for a light switch to go off and say, alright, that's done. I think it will be a continual process. I hope she never gets over that. She'll always miss her mother. I just want to be here to support her and her family and just be here for whatever she needs me to do. Whatever that looks like."
"Time is a healer," he said. "I liken it to a scar. When you initially get a wound, it hurts like all get out, regardless of what it is. Then you have a scar. A scar is the memory of the past, but the pain subsides."
"She is an amazing woman and she'll get through this. To her credit, she and her siblings are all growing closer as a result of this," Ayers revealed. "The emotions aren't tearing them apart. They're bringing them closer together, which is awesome."
Steinmetz's death — in her sleep — was sudden and unexpected, and the outpouring of support from Gunvalson's cast mates was swift.
"@vickigunvalson we have gone through so much together and I love you like a sister," Tamra Judge wrote. "I'm so sorry for your loss. Praying for you and your family. Your mom is now with your dad dancing in heaven." And Lizzie Rovsek chimed in on Twitter, "Sending tons of prayers & love your way @vgunvalson I'm heartbroken for you May God grant you & your family peace during this time." Gunvalson's dad, William Steinmetz, passed away in 1997.