Exclusive
No Hope? Vicki Gunvalson's Boyfriend Cancer-Stricken Brooks Ayers Reveals Chemo's Not Working — Test Results 'Haven't Gotten Better'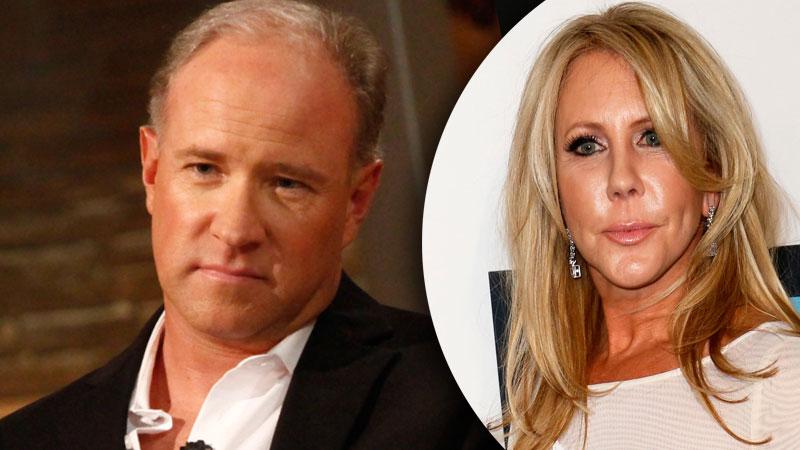 Vicki Gunvalson and Brooks Ayers are back on, but how much time do they have left? Her boyfriend tells RadarOnline.com exclusively that recent chemotherapy treatments to treat his "aggressive" cancer don't seem to be having any effect.
As Radar previously reported, Ayers is battling Stage 3 Non-Hodgkin lymphoma, specifically diffuse large B cell lymphoma, since a fall 2013 diagnosis.
"I am sick," Ayers admitted in an exclusive interview. "I do feel bad, but it's mind over matter a lot of times. You gotta stay the course."
Article continues below advertisement
Most recently, that's meant nearly six months of chemotherapy and a largely liquid-based diet. But unfortunately, Ayers said, so far his treatment hasn't had much effect.
"When the test results came back, the numbers haven't changed substantially," he revealed. "They haven't gotten worse, but they haven't gotten better. That was kind of disheartening, to be honest with you."
"I'm not so sure my body is responding to chemotherapy," he admitted. "At least the cocktail that I was doing. I'm not sure it responded like it needed to."
Now, Ayers says he's faced with three options. The first is an "aggressive form of chemotherapy" that would mean three or four days a week of treatment every three weeks for a minimum of four months. Or, he could opt for a stem cell transplant, but there are no guarantees.
Finally, he says, Gunvalson's fellow RHOC cast member Shannon Beador is helping him develop a holistic approach.
"Shannon Beador's been very much in our corner and putting us in contact with a lot of unbelievable world-renowned holistic physicians based here in Irvine (California)," he said. "We're exploring that and with that would come no chemo. It would be addressing and taking what I've been doing with the holistic diet and an infrared sauna."
"It's just assessing what my mentality, my body responds to and it's been quite a daunting mental task," he admits.
But through it all, Ayers has had on-off girlfriend Gunvalson, 52, solidly by his side. "She keeps me up and going and it's been good rather than just routine, monotonous life — that's not what we're about," he said. "So it's been very good from that perspective."
And he's not planning on leaving reality TV any time soon, despite his struggle to save his life. "At the end of the day, we want to show that you don't have to lay down and let this disease or the normal course of what we think cancer can do take you down (by brantley here)," Ayers insisted. "You can continue to have a life and you can continue to be strong mentally and the things that we can control, we can control. That's what we're doing."