Exclusive
Housewives' Most Hated? Brooks Ayers Says He & Vicki Gunvalson 'Stronger Than Ever' & Living Together — Despite Cheating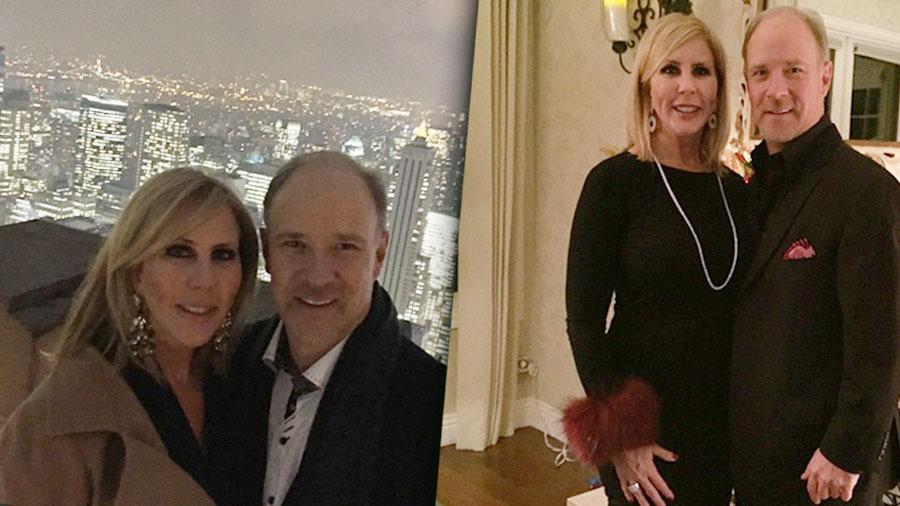 Once a cheater, always a cheater? Vicki Gunvalson doesn't care! Despite her bad news boyfriend Brooks Ayers' candid audiotaped admission that he has "been known to" be unfaithful to his Real Housewives of Orange County girlfriend, the couple secretly stuck it out. Now, six months after Radar's explosive report on his adultery, Ayers spoke out in an exclusive interview to insist the couple are stronger than ever!
Article continues below advertisement
"It's been a challenging couple of months for Vicki and myself for sure, but we're doing good," he said. "...One of the words I use to describe Vicki is 'intense.' She's intense in every aspect of her life in whatever she's doing. Having fun, whooping it up, or working, in a relationship, or whatever, she's intense — and that's a good thing."
Ayers, who is now battling Stage 3 cancer, revealed that the couple were together exclusively for a year prior to his diagnosis last fall, "regardless of what everybody thought."
"I did move in once the diagnosis happened," he said. "That was a decision that was brought up by her. She said, 'Hey, I need you. I want to take care of you. I want to be there for you. It's time for us to take this next step. It makes logical sense. I don't want you at your place getting sick and me staying over there or you staying over here and your stuff at your place…' That's how that all transpired."
Article continues below advertisement
And though the controversial couple have been the target of Vicki's castmates — especially Tamra Judge — in the past, Ayers says he's won over the naysayers.
"You'll see this season that we have the complete support of Tamra and Eddie as well," he said. "Life changes with Tamra becoming a Grandma and Vicki becoming a Grandma twice. There's a lot of things going on. It kind of sheds out all the other BS. It makes you realize what's important in your life. It kind of puts into focus, it puts everything else that's really not important that we tend to get hung up on sometimes kind of on the back burner or completely wiped out. Let's focus on what the main thing is."
Still, he hinted that Gunvalson's daughter Brianna is probably still not supportive.
"I can't really say because of the filming," he admitted. "I can just say this, just watch what happens. I hate to use that, but it's, just watch what happens!"
Do you think Vicki and Brooks make a good couple? Let us know in the comments!