Exclusive
Tom Sandoval Lashes Out At 'Vanderpump Rules' Co-Star Jax Taylor, Insists He Did Not Cheat With 'Miami Girl'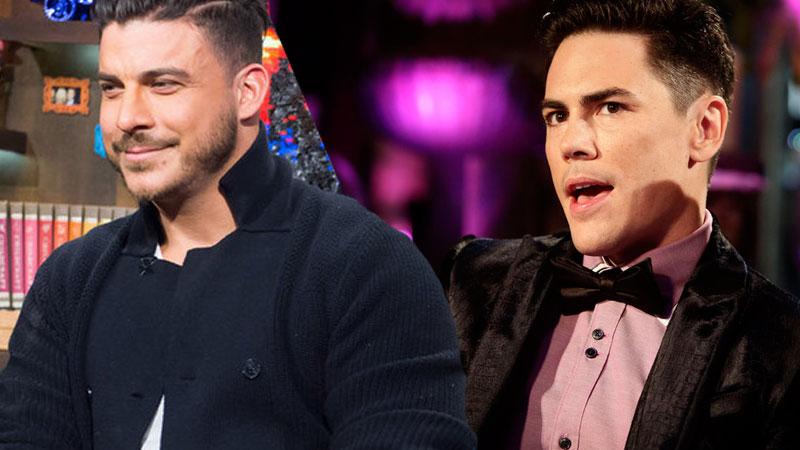 As this season of Vanderpump Rules comes to an end, the drama is just beginning! After Jax Taylor spread the rumor that Tom Sandoval cheated on his girlfriend Ariana Madix in Miami, Sandoval spoke out exclusively to RadarOnline.com to tell his side of the story — and slam his co-star in the process!
New York receptionist Annemarie Kunkel came forward to claim she had a run-in with Sandoval and Taylor during a wild Miami night last spring. And on the February 23 episode of the show, Taylor told their fellow castmates that Sandoval and the woman had sex.
Article continues below advertisement
"Jax has done things like this a number of times. It's not one of those things you get used to," Sandoval told RadarOnline.com in an exclusive interview. "It's not like we will ever be best, best friends. Or anything like that."
Speaking candidly about what he calls false claims, an exasperated Sandoval said, "At any point, I know that Jax would say something to get himself out of trouble. What is more annoying is that there are people in this world that take what he says seriously. We all know he's lying 99.9999% of the time. People who watch that show don't know that."
His girlfriend defended his honor too.
"I told you not to get involved with them," Madix said. "You can see in the edits that there are lots of jump cuts. Tom didn't take any selfies with this girl. No pictures. Jax was gone the entire night with this girl's friend. Tom is going to give you the detailed version of every story. He takes the scenic route which is what I love about him and he tells you the truth."
Article continues below advertisement
The Vanderpump Rules star told RadarOnline.com that he has a few regrets about how he handled the storyline as it played out on the show.
"I wish I would have been harder on Jax. I wish I would have called Kristen out a little bit more. There are a lot of things," he said. "But overall I feel like I did pretty good. I just wish that my voice was heard more. It is frustrating because I tried really hard to get my points across. I'm not one to yell. I don't feel like yelling achieves anything. I tried to be calm in my approach feel like people are always trying to talk over me."
Do you believe Sandoval's version of the story? Sound off in comments below.