Exclusive
Breaking Point? Tori Spelling Begs Docs For Stronger Drugs As Normal Migraine Meds Fail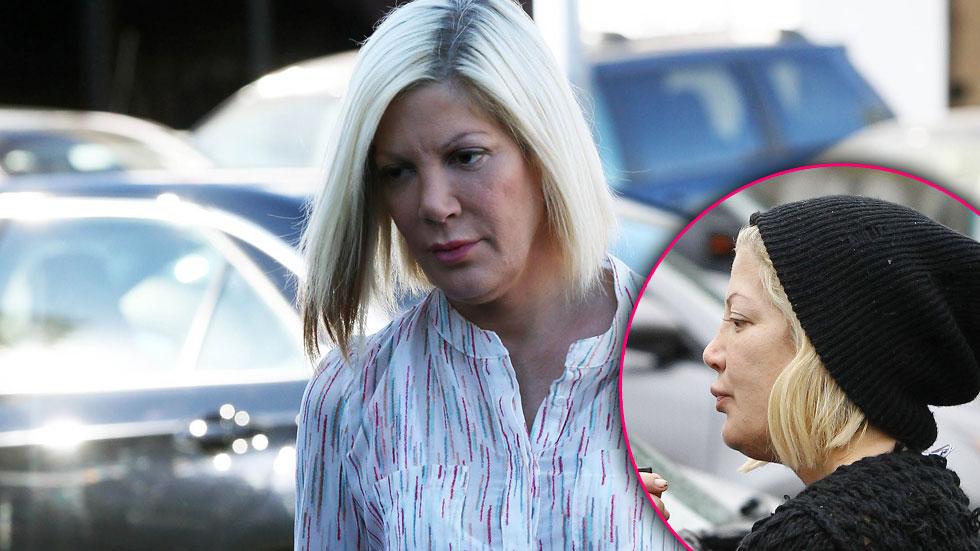 How much more can Tori Spelling take? As relationship issues continue to plague her marriage, RadarOnline.com has learned that her crippling stress migraines have gotten so bad, her normal medications just aren't cutting it — and she was recently forced to beg doctors for a stronger solution.
"The migraine headaches Tori suffers from are very intense, and render her useless to do anything," an insider told Radar. "Laying on her bed in the dark is absolute torture because Tori the pain is just so intense."
Article continues below advertisement
"The medication Tori was taking at home for the migraines just wasn't doing anything," the insider said, so on Friday, she "begged" husband Dean McDermott to take her to the hospital in Encino.
"The benefit of going to the emergency room, was that Tori was immediately given stronger drugs to help," the source revealed. "After several hours in the E.R., the medication kicked in and Tori was able to be released. Although a bit groggy, Tori was able to function."
Indeed, over the weekend, Spelling was able to rally to attend the Cinderella screening with her four children. McDermott was noticeably absent, and the source says it was a sign their relationship issues are still taking a toll.
"Dean was exhausted from taking care of the kids by himself, and dealing with Tori's migraines," said the source. "He knows she does suffer from the migraines, but doesn't think it's normal for Tori to go to the hospital every time."
In addition, the insider claimed, "Tori and Dean are still struggling with the aftermath of his affair, and her never-ending trips to the hospital. It's a very sad time for the family, despite all of the public appearances in which Tori and and Dean are smiling."