Exclusive
'We Thought He Would Die!' The Dangerous Booze & Drug Binges Behind Scott Disick's Rehab Stay Revealed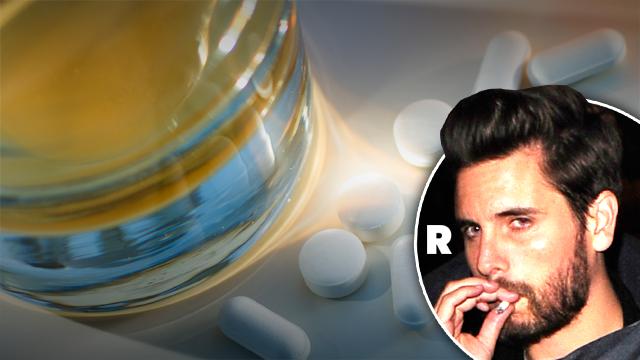 Scott Disick's latest rehab stay came right on the heels of a very public party weekend in Atlantic City. But RadarOnline.com has learned that his boozy casino trip was just the latest in a series of dangerous drug and booze benders that left eyewitnesses worried he could die from his addiction.
This January, Disick, 31, traveled with artist Alec Monopoly and friends to Aspen, where he racked up a liquor bill of more than $1,000 at the Hotel Jerome.
Article continues below advertisement
According to a source close to Disick, "He was on a bender. He barely left the hotel for two days. We were worried he could die."
"He does pills and it gets scary," the source said. "By the time he left, he was very very pale, and barely recognizable. He could hardly walk."
Reportedly, his hotel room was also a mess of liquor bottles and cigarette butts when he left.
Following that blow-out Disick flew home to baby mama Kourtney Kardashian, 35, and his kids Mason, 5, Penelope, 2, and Reign, 3 months, in L.A. for roughly two weeks, but in early February he was back on the party circuit again, hosting a bash at El Hefe in Tempe, Arizona, on February 5.
"Scott had bottle service and was drinking at the table," another source close to Disick confirms. "There was a door located right next to his table where he kept sneaking off to go to the bathroom."
"He had a Rolls Royce and we went to an after party at a mansion in Camelback Mountain," the source said.
"He was drinking shots of Don Julio 1942," and also doing drugs, according to the source. "We were at the house till 5:30 or 6 a.m."
Article continues below advertisement
Disick didn't want anyone to leave with proof of the wild night, says the source: "Before he left, he walked around to a couple of girls and picked up their phone and made sure they didn't have any photos of him. He deleted a couple off one girl's phone."
And though he didn't trash his party pad this time, the source claims to have seen Disick leave drug paraphernalia behind.
As Radar reported, Disick entered rehab in Costa Rica on Monday — his fourth time around, at least. And this time, he's getting paid for his efforts.
Meanwhile, check out what the rest of the Kardashians are up to:
Do you think it will stick this time? Let us know in the comments!