Got To Give It Up! Paula Patton 'Upset' Ex-Husband Robin Thicke Lost Lawsuit To Marvin Gaye — $7M Settlement 'Comes Out Of Her Pocket Too'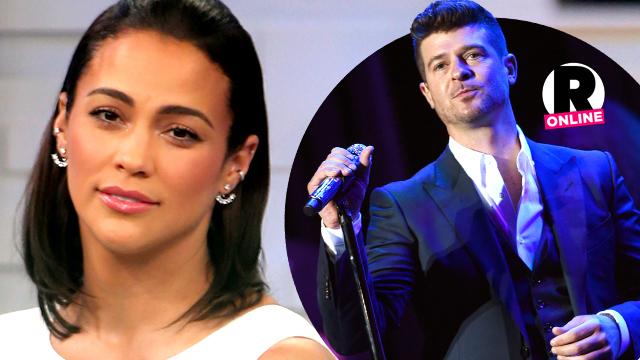 On March 10, Robin Thicke and Pharrell Williams were ordered by a California federal jury to pay Marvin Gaye's estate $7.3 million in damages for copyright infringement over their hugely successful chart-topping hit, "Blurred Lines." But it is not only Thicke and Williams that were disappointed by the ruling : RadarOnline.com has spoken to a close friend of his ex-wife Paula Patton's, who says that she is "incredibly pi**ed off that Marvin Gaye's estate was awarded the money."
Article continues below advertisement
As RadarOnline.com reported, Gaye's family countersued Thicke, 38, Williams, and Clifford Harris Jr., also known as T.I., for $25 million after the three preemptively petitioned for a jury to decide whether or not their 2013 song violated copyright laws, following claims they ripped off Gaye's hit "Got To Give It Up."
According to a friend of the 39-year-old Baggage Claim actress, who has been separated from Thicke for more than a year, "Any money that comes out of Robin's pocket comes out of her pocket too."
"The endless money that she used to have when 'Blurred Lines' came out" is in jeopardy, said the source, "and her ex's reputation has been tarnished forever."
"That song was the jackpot for the both of them and was his career high point," the insider tells RadarOnline.com. "Now it is clearly his downfall."
However, it is a much different story on the other side of the court, as RadarOnline.com has also spoken to a longtime music producer of Gaye's, who tells RadarOnline.com that the family "finally feels that justice has been served in the case."
"The estate was very glad that Pharrell Williams and Robin Thicke's money couldn't sway the jury. Marvin would be very pleased ."
Do you think that the ruling was a fair one? Let us know in the comments below.