Courtroom Concert: Robin Thicke Sings, Dances, Plays Keyboard During 'Blurred Lines' Trial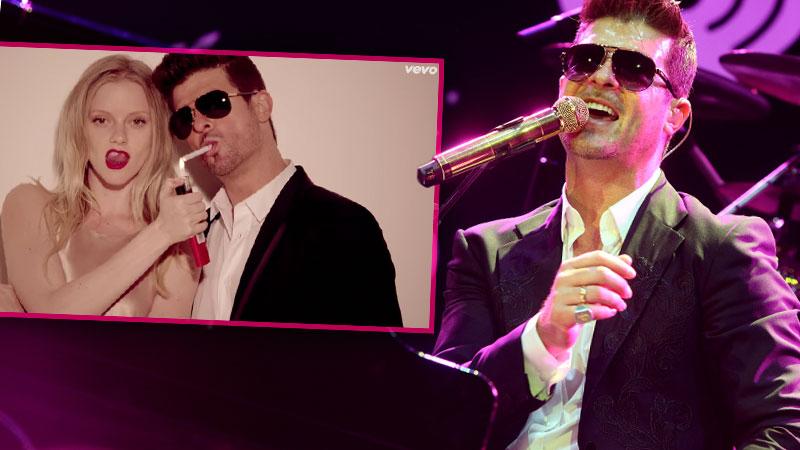 Jurors got an impromptu concert when Robin Thicke played a keyboard in a Los Angeles courtroom Wednesday, in his "Blurred Lines" copyright case with Marvin Gaye's family.
As RadarOnline.com previously reported, Thicke, Pharrell and T.I. are embroiled in a multimillion legal dispute with Gaye's relatives over how much of they used of the late soul singer's 1977 hit "Got To Give It Up" to compose their controversial summer hit.
Article continues below advertisement
Thicke wound up playing a musical instrument in court -- and even danced a bit -- to demonstrate how a number of diverse songs can share the exact progressions of chords. The "Give It 2 U" singer sang and played through a number of iconic hits, including Michael Jackson's "Man In the Mirror;" The Beatles' "Let It Be;" U2's "With Or Without You;" and Bob Marley's "No Woman No Cry."
Thicke also followed up on his controversial deposition comments that he was impaired throughout rounds of media interview last year.
MORE ON:
Pharrell Williams
"I had a drug and alcohol problem for the year and , so I don't recall many things that I said," he said.
The of Growing Pains star Alan Thicke also admitted he'd lied about how much of the song he came up with, saying he'd did it out of pride.
Thicke said "he was not present when the song was created," and "living in revisionist history" after "the biggest hit of his career was written by somebody else and he was jealous and wanted credit."
While he acknowledged that "Got To Give It Up" and "Blurred Lines" "share some of the same notes," Thicke noted that they "only share one chord."
Pharrell, T.I. and Thicke's ex Paula Patton are all expected to take the stand in the coming weeks.